With most COVID-19 restrictions in England now lifted, the country is cautiously returning to "normality". However, after several challenging waves, the NHS remains under a great deal of pressure. Some of the inherent pandemic challenges have been mitigated by a remarkable vaccination programme which has now ensured three quarters of all adults in the UK have had both doses of a COVID-19 vaccine. Expansion in testing capacity and improvements to contact tracing have also played their part.

But trusts are still being challenged by large backlogs of non-COVID care, as well as staff capacity and wellbeing constraints as they respond to the ongoing wave of the pandemic.

COVID-19 data as of 9 August 2021

On the week commencing 19 July 2021, when restrictions were lifted, England registered an average of 34,365 cases, down from an average of 41,287 daily cases the week prior. That week, we saw a slow decrease in the number of daily cases for eight consecutive days.

Despite this decreasing trend, the infection figures were of similar magnitude to the 35,000 positive tests a day we saw in the peak of January 2021. In fact, prior to this decrease, new cases had been climbing steadily since mid-May when outdoors social contact rules were lifted, and indoor hospitality resumed for up to six people or two households.

However, in the following two weeks, the seven-day average of daily cases decreased to 23,742 in the week commencing 26 July and then to 23,086 the week commencing 2 August. While these figures give cause for some optimism, it is important to grasp the full picture of what the current wave means for NHS trusts.

It may be early to ascertain the impact of "Freedom Day" and it is difficult to predict the rates of community infections when schools restart and the winter season begins. Nevertheless, it is evident now that the impressive vaccination programme has broken the link between infection and high levels of hospitalisation. This is a particularly remarkable achievement as the Delta variant, a strain with mutations that make the virus more contagious and easier to spread, is now the most common variant in the UK, accounting for 99% of strong positive cases in July 2021 alone.

As such, the number of COVID-19 patients in hospitals is currently much lower than the figures we saw in the peak of January 2021. That month, with a similar number of new daily cases, the NHS registered a record daily figure of 39,000 patients in hospital. But even with community cases gradually decreasing and with a significantly lower number of hospitalisations and new daily admissions, the COVID-19 pandemic continues to put a strain on the NHS.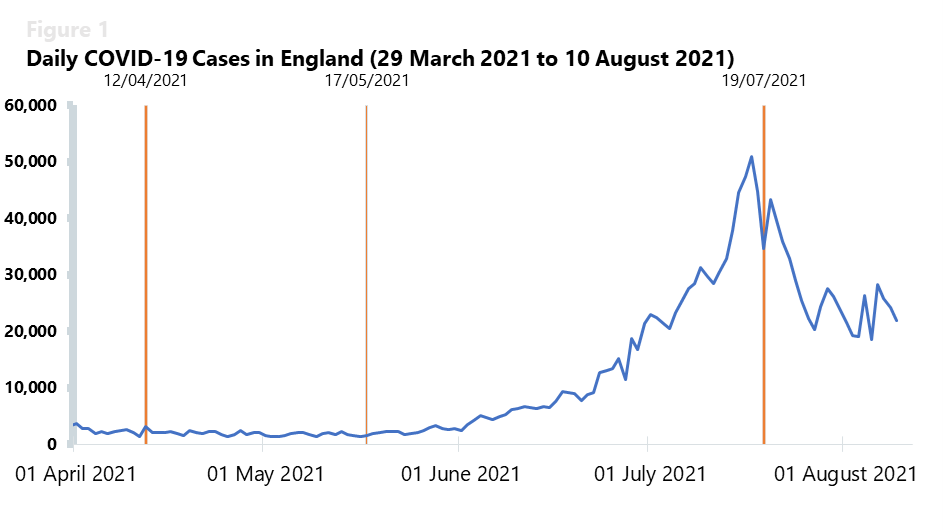 The daily hospital admissions seven-day average has been increasing since mid-May, having reached 785 new daily admissions the week commencing 19 July and 717 new daily admissions the week commencing 26 July 2021. These figures are considerably lower than the record number of 4,134 people admitted to hospital with COVID-19 on a single day during the January 2021 peak, highlighting the importance of vaccination as a means to reduce the severity of the illness and the subsequent need for hospitalisation for some patients. However, data are also showing a rising trend for the number of daily patients in mechanical ventilation beds. These numbers have been increasing since the end of May 2021, reaching a seven-day average of 772 patients in ventilation beds the week commencing 2 August.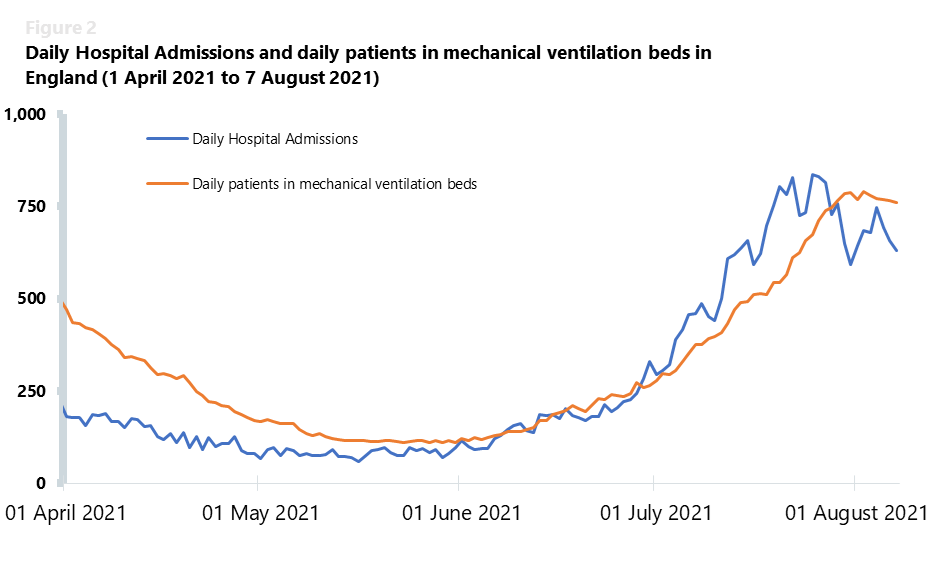 A similar trend can be observed in the daily patients in hospital figures, which have also been increasing since the end of May 2021. They have now reached a seven-day average of 5,102 patients in hospital the week commencing 26 July and 4,985 the week commencing 2 August 2021. Although these numbers have been stabilising over the past few days, they still represent a major pressure for trusts to contend with, particularly as enhanced infection control measures are still in place, meaning that trusts are working with a much lower bed capacity.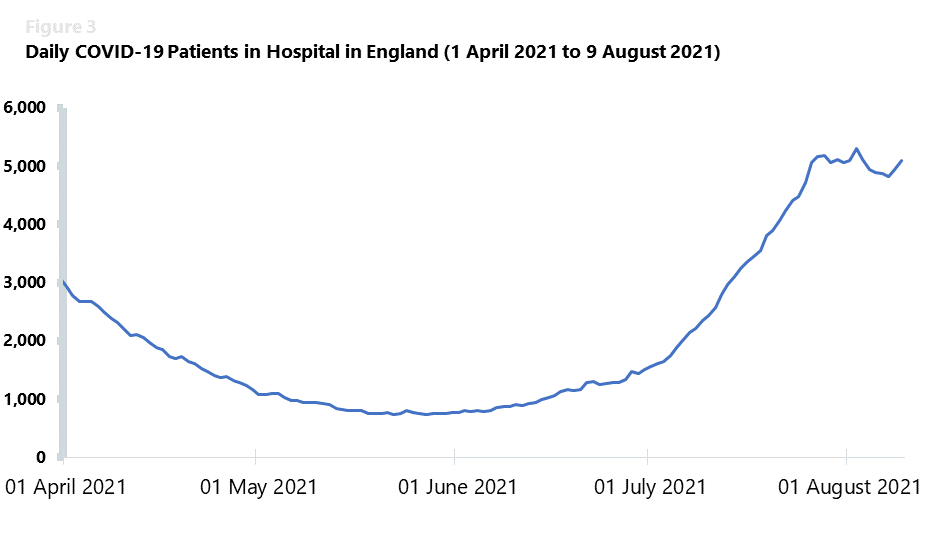 Even though figures remain relatively low compared to the January peak (the maximum number of daily admissions remains at a much lower 836, compared to 4,134 at the peak on 12 January), the increase across these indicators emphasises the pressures that are still being felt in NHS services. In fact, over a period of 15 days, from 27 June to 12 July 2021, the number of daily admissions to hospitals increased almost threefold. Juggling a vaccination programme which has administered over 72.5m doses in England alone with the maintenance of non-COVID services, the NHS is still feeling the impact of the pandemic.

After the January 2021 wave with record numbers of 1,450,000 NHS bed days for COVID-19 patients between December 2020 and January 2021, hospitals are still dealing with an upward trajectory of daily hospitalisations. Albeit of smaller magnitude, the ongoing need to have capacity for COVID-19 patients will continue to have a significant impact on activity.

A balancing act

The latest data from NHS England and NHS Improvement shows the significant pressure on the urgent and emergency care pathway with ambulance activity higher than any previous summer and presentations at emergency departments at record levels for this time of year. Trusts are balancing the need to treat urgent patients and COVID-19 patients alongside tackling the backlogs of care across mental and physical health services. Trusts are continuing to push hard, increasing activity against a difficult backdrop of reduced capacity due to infection control measures, staff sickness and isolation, and workforce constraints including summer leave.

Any narrative that suggests trusts are not busy because they are not currently facing the same levels of COVID-19 pressure as they did in January really neglects the full picture. We must continue to evaluate the real pressure on services by looking across COVID and non-COVID care, assessing activity and waiting times data, as well as listening to those who lead the NHS about the current experiences of trusts and frontline staff. Significantly, trust leaders tell us that not only are they seeing more people needing care, but those currently accessing services have more complex and severe health needs.

As the comprehensive spending review approaches in the autumn, the government must look holistically across all services and backlogs to ensure the NHS has what it needs in the longer term to live with COVID-19, support those with long-COVID, as well as address the care deficit across physical and mental health services left by the pandemic over the next three to five years.
About the author