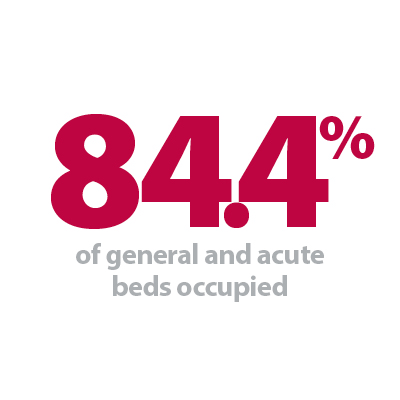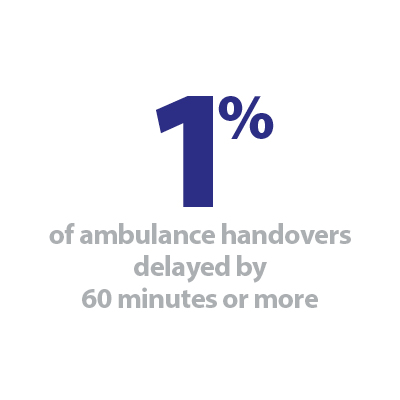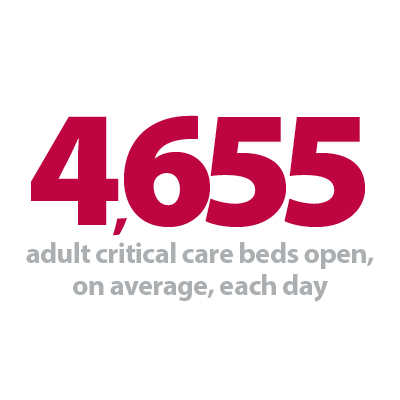 The latest winter sitreps published today by NHS England and NHS Improvement give a picture of the NHS still under great pressure, but positive developments in a range of areas offer hope for the future. The number of COVID-19 patients continues to fall, but occupancy of critical care units remains very high in some trusts.

Key headlines from the latest data:

COVID-19 overview
The number of COVID-19 patients in hospital on 17 February stood at 16,458, which is 21% lower than a week ago - equating to 4,468 fewer patients. The latest figure is now less than half of the peak reached on 18 January (17,878 fewer patients), but remains 22% higher than the figure on 1 December 2020
the number of COVID-19 patients in mechanical ventilation beds is also now coming down nationally and is 17% lower than a week ago. However, this too remains well above the level going into winter and is 102% higher than 1 December (1,211 more patients).

Winter sitreps
There are still record numbers of patients in adult critical care beds, but these numbers are slowly falling. This week there were an average of 4,655 of these beds occupied each day, 7.6% fewer than last week. However, this remains 55.3% higher across the country than the same time last year - 1,657 more patients each day. Some trusts in London and the South East are still operating at double the capacity of last year
some of the surge capacity that trusts have opened to accommodate patients with the most severe illness is starting to be scaled back. This week, 5.1% fewer adult critical care beds were open than at the peak reached two weeks ago. The current total remains far in excess of the figure at the start of winter – 32.2% higher
national G&A bed occupancy fell this week to 84.4%, down from 86.1% last week. There was a smaller reduction in the total number of beds open, down by 0.8% (727 fewer beds).
the number of ambulance arrivals was 2.4% lower than last week, reaching the lowest weekly total across the last four winters
Subsequently, handover delays also continue to improve, with a lower proportion delayed than any week in the last four winters. 7.1% were delayed by 30 minutes or more (down from 8.8% last week), and 1.0% were delayed by 60 minutes or more (down from 1.9% last week)
the number of long stay patients remains well down on last year, and the impact of diarrhoea and vomiting and norovirus, as well as seasonal flu, remains far less than previous years.
As the government considers the roadmap for the coming weeks, it is important to keep sight of conditions in the NHS, where the disruption from the latest wave of the pandemic is still having a large impact. It is very positive to see the number of new COVID-19 cases and hospital admissions reducing day-on-day nationally, but we can't be complacent. The numbers in hospital, while also falling, remain well above the levels when the country emerged from previous lockdowns. It would be a grave error to ease restrictions to the extent that the virus quickly spreads again, and this would clearly set the NHS back considerably as it looks to recover from the enormous pressure it has endured this winter.

On the ground this week, the very large numbers of patients who require critical care continues to present a challenge for trusts. Compared to this time last year, there are over 2,000 more adult critical care beds open, and while the occupancy rate has started to come down, trusts are still treating 1,400 more of these patients every day than the start of winter.

Despite wintery conditions sweeping across much of the country this week, it is encouraging that there did not appear to be the usual associated spike in demand for NHS services. The overall general and acute bed occupancy was 84.4%, and while we know this will feel busier due to additional increased infection prevention and control measures, this is now the lowest level since December.

We continue to see impressive progress on the vaccination front, with the government target for everyone in the joint committee on vaccination and immunisation cohorts one to four to be offered the opportunity to be vaccinated by 15 February comfortably met. 13.4 million people in England have now received a first dose of the vaccine, and further roll-out to wider sections of the community is now going ahead.

NHS trusts and partners are playing a key role in this crucial programme, and in this week's Winter watch contribution we hear from Dr Ahmed Shahrabani, the co-founder of Locum's Nest, who discusses the success of the new "vaccination hub" on their platform. He highlights how it has been used to support with the staffing of hubs at one of the first NHS trusts to use the new feature, North Middlesex University Hospital NHS Trust.
How Locum's Nest's workforce software is supporting North Middlesex University Hospital NHS Trust this winter
On 8 December 2020, the UK initiated the world's first mass immunisation campaign against COVID-19 by administering the first vaccination against the deadly virus. It is also the nation's largest vaccination programme to date with almost 1,400 vaccination sites and seven mass vaccination centres currently operating across England. Healthcare providers are geared up to deploy the vaccine as rapidly and efficiently as possible, technology has a significant and ongoing role to play in this, especially at a time when NHS trusts are also dealing with unseen winter pressures. We have seen an exceptional appetite from healthcare organisations to staff their own vaccination centres and a tremendous response from healthcare professionals offering their support to work at these sites.

In response to this astounding demand from both NHS leaders and healthcare professionals, we added a new "vaccinations hub" specialty on the Locum's Nest platform in order to support our partner hospitals and GP practices staff their hubs. One of the first NHS trusts to use this new feature was North Middlesex University Hospital NHS Trust in North London. In the first week of February, the trust opened the Dugdale Centre theatre in Enfield as a COVID-19 vaccination centre. The Dugdale Centre, which normally hosts a number of theatre productions, now has capacity to vaccinate hundreds of people a day. It is overseen by the community services team at North Middlesex University Hospital and being staffed by hospital clinicians, as well as additional volunteers who have all received NHS training in safely administering vaccines.

In just a couple of weeks, this vaccination hub has seen a 98% shift fill rate, meaning the trust was able to book the appropriate healthcare professionals for 98% of vacant vaccination shifts through our platform. This is a real testimony to the healthcare professionals' eagerness to join this massive vaccination programme but also to the trust's ambition to protect as many people as possible from coronavirus.

One important contributing factor to the success we've seen at North Middlesex's vaccination hub, is the trust's membership in the Digital Collaborative Bank (DCB) – the largest workforce coalition of NHS trusts in the country spanning across four sustainability and transformation partnerships/integrated care systems, since August 2019.

As a member of the DCB, North Middlesex can directly plug their workforce gaps from nine large acute NHS trusts across all grades and specialties. The DCB now has over 5,000 HR-compliant clinicians ready to cover thousands of shifts each month, positively contributing to continuity of patient care and saving millions on agency costs. For North Middlesex, joining the DCB meant:
A sharp increase in the trust staff bank, which has more than doubled
A significant impact on shift fill rate (amount of vacant shifts covered by clinicians), which jumped from 48% to 78% in the first month they joined.

Each NHS trust which is part of the DCB has saved £3-4m in agency costs. By working openly and collaboratively, the group's fill rate was consistently 5-10% higher than the average trust working independently, reaching a record-breaking 91% shift fill rate across all trusts at the height of the pandemic.

The need to modernise the way of thinking has become very apparent as NHS trusts try to plug holes in their service with a limited number of contingent workers and a limited breadth of skills available. With an existing significant workforce deficit, it is increasingly important in the context of the current pandemic to have the right workforce with the right skills in place to help deliver the best quality care to patients and maintain the service. There's never been a better time to end silo working and embrace collaboration. When NHS trusts work together to support where help is most needed, we see outstanding results, such as the vaccination hub fill-rates of nearly 100% at North Middlesex University Hospital Trust

To find out how your organisation can benefit from the Digital Collaborative Bank, get in touch with Dr Ahmed Shahrabani at ahmed@locumsnest.co.uk.
The NHS is still stretched and we are now at a critical juncture
Responding to the latest winter figures published by NHS England and NHS Improvement, the deputy chief executive of NHS Providers, Saffron Cordery said:

"We are past the peak of this wave of the pandemic, but today's figures highlight just how stretched the NHS still is. We are continuing to see more than 10,000 COVID-19 cases each day, and as outlined yesterday, we expect these pressures to remain for the next six to eight weeks.

"The number of patients with COVID-19 in hospital has dropped to 16,458, which is less than half the level of January's peak. While it is positive news that the number of COVID-19 patients requiring ventilation is decreasing nationally, today's data also highlights that in some trusts critical care units are still operating at double the capacity of last year, particularly in London and the South East.

"Meanwhile, the number of patients arriving at hospital by ambulance has reduced to the lowest level seen across the last four winters, and delays in handing patients over to hospitals have continued to improve. This means that ambulances are able to answer more urgent calls, and get back onto the road quickly to treat more people.

"All this data highlights just how hard NHS staff are working – across acute, ambulance, mental health and community trusts – to look after patients, COVID and non COVID. They're doing this while also rolling out our successful vaccination programme, which has now given the jab to over 15 million people across the UK, despite the exhaustion they are experiencing.

"But now we are at a critical juncture. The government next week will lay out its roadmap to ease restrictions, which ultimately will impact people's wellbeing and the NHS' ability to cope. Yesterday, in a letter to the prime minister, we set out four tests trust leaders believe must be passed before relaxing the current restrictions on social contact. This includes seeing a significant drop in COVID-19 numbers, a return to more normal levels of NHS capacity, advances in the vaccination programme to ensure adequate levels of protection, and a robust and effective testing strategy to identify and control variant strains.

"Lessons must be learned from the past year if this is to be the last national lockdown. Trust leaders are clear: the government's approach must be to remain cautious."