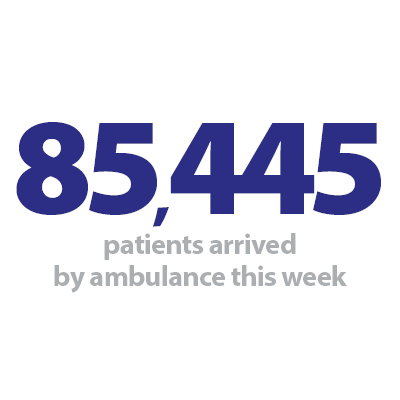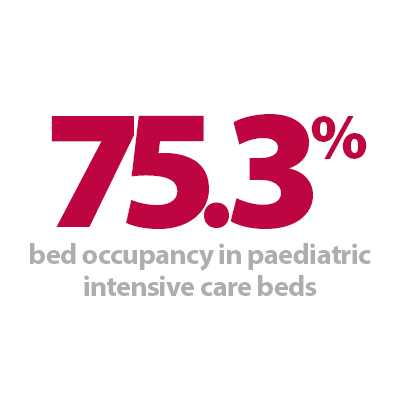 Today we saw the eighth week of the winter sitreps published by NHS England and NHS Improvement. Although COVID-19 cases continue to fall in some regions and nationally, overall cases remain high. Encouragingly, new hospital admissions and numbers of patients in hospital are however falling.

Recent data (26 January) reported a total of 90,587 cases in England, a fall of 6% since the week before but still considerably high. The number of new hospital admissions and the number of patients in hospital has also fallen this week (down by 11.9% and 11.6% respectively). Average total staff absences have fallen again this week to 72,077 (6.7% fewer), of which 42.1% were COVID-19 related (30,375). Although COVID-19 cases have fallen nationally and staff absences fell this week, the latest winter sitreps data highlights the pressures that trusts continue to face.


Key headlines from winter sitreps (17 January – 23 January):
The number of patients arriving by ambulance continues to rise. A total of 85,445 patients arrived by ambulance this week (up by 2.4%) which shows the current strain on the ambulance sector but also wider system pressures.


Ambulance handover delays have increased slightly with 18.5% of ambulance handovers being delayed by 30 minutes or more and 7.0% being delayed by 60 minutes or more (up by 17.9% and 6.9%, respectively).


Adult critical bed occupancy has fallen again this week to 74%, down from 76% last week. This remains lower than the same time last year (87.1%). The average number of critical care beds open is also 32% lower compared to the same point last year which shows less pressure across adult critical care beds compared to the peak in January 2021.


Adult and paediatric general and acute (G&A) bed occupancy remained stable at 91.9% this week but is higher than the same time last year (87.6%). The average number of beds open this week is 94,923, a slight decrease of 0.1% since last week but is 4.9% higher than this time last year (90,506).


Pressures on paediatric intensive care also continue to rise as bed occupancy increases to 75.3%, up from 74.5% last week and remains considerably higher than the same time last year (70.9%). Neonatal intensive care bed occupancy also increased this week to 70.1%, up from 69.3% last week.


The number of patients staying in hospital longer than seven days has fallen again for the second consecutive week by 0.7%. The number of patients staying longer than 14 days has also fallen this week by 1.4%. However, there continue to be more people staying longer than 21 days, with this figure up by 1.0% since last week. Compared to the same time last year, these figures are all up by 21.3%, 38.1% and 55.8%, respectively.


The number of beds closed due to diarrhoea and vomiting and norovirus increased this week with an average of 241 beds closed. This remains considerably higher than the same time last year (17 last year).


The number of G&A beds occupied by flu patients fell again this week to 227 and 12 critical care beds were occupied by flu patients (17 fewer than last week).


The average number of delayed discharges increased again this week to 12,819, although the proportion has decreased slightly to 59.3% (down from 59.4% last week).

The data this week shows signs of encouragement in some areas with paediatric and adult G&A bed occupancy remaining stable and adult critical care bed occupancy falling. The number of patients staying in hospital longer than seven and 14 days has also improved slightly and hopefully the small reduction in staff absences is a trend that will continue into next week. However, the number of patients arriving by ambulance continues to rise and we continue to see higher paediatric and neonatal intensive care beds occupied since last week and compared to last year. All these factors undoubtedly put further strain on trusts who are desperately trying to maintain adequately staffed capacity across all inpatient services.

The total number of patients who are fit for discharge but remain in hospital has reached the highest level seen this winter during week eight, although the proportion has fallen slightly this week which shows that trusts are working hard to discharge those who no longer need to remain in hospital.

This week's data presents a very busy but steady position across many indicators in the middle of the winter period. However, the record number of ambulance arrivals does not just show the high demand for urgent care but is often a signal pointing towards strain across other services in the community including primary care, mental health services and social care.



Embedding the voluntary sector in integrated care systems

Sharon Brennan, health policy manager at Alzheimer's Society, discusses how the charity provides dedicated support to individuals and works with the NHS to ensure provision is made for people with dementia, preventing added strain to hospitals. More widely, she discusses why the voluntary community and social enterprise sector should be embedded into integrated care partnerships, and the further work that is needed to implement the latest NHS England guidance.

Integrated care systems (ICSs) bring with them an opportunity to change how the health and care system works with the voluntary sector, yet greater clarity is needed about what each side can offer to the other. Coming out of COVID-19 and continuing through out this winter, people with dementia are facing increasingly long waits for a diagnosis as well as physical and mental deterioration from being isolated for so long. Their carers are often facing burnout too as a result of community care being pulled back during the pandemic. Charities like Alzheimer's Society can provide dedicated support to individuals through our services, as well as working with the NHS to ensure provision is made for people with dementia to stop them falling into crisis and adding further strain onto acute trusts.

NHS guidance issued in 2021 sets an optimistic tone, suggesting the health system is ready to embrace the innovation and person-centered knowledge the third sector can bring. Yet reading the guidance there is almost too much opportunity afforded. Integrated care partnerships can have members of the voluntary community and social enterprise sector sitting on their boards; board papers going to the integrated care board should be co-produced; "leaders from the voluntary, community and social enterprise (VCSE) sector, citizens, patients and carers [should help in] setting priorities in systems and places". Provider collaboratives are also "expected to leverage the expertise of VCSE organisations to support co-design and delivery of [services]," while place-based partnerships should include VCSE membership on their boards.

With so much opportunity, it is clear why NHS England has introduced VCSE alliances, which are intended to sit below the integrated care boards and allow membership from all voluntary groups within the ICS boundaries. Many of these VCSE alliances are not yet formed and, for those that are, it is not clear how the voluntary sector can access them, as their leads are not collectively published anywhere. While we welcome the aim of equity, ensuring a voice for all amid such a large and varied membership also poses a problem in itself. However, some systems, such as North West London ICS, have developed strong models, with tiered membership that focuses on different parts of the ICS population.

It is also not clear how the VCSE alliances will work to deliver their NHS England-directed purpose of reducing inequality, improving population health, and enhancing productivity. With contract tendering likely to dramatically reduce once the Health and Care Bill passes, will the VCSE alliances become places where ICS needs are sounded out and contract alliances formed? Talking to various commissioners some clear themes are coming through. First is the desire to work with hyper-local organisations in the ICS. These small grass roots really came to the fore during the pandemic, identifying rising needs and responding to them quickly. However, commissioners are recognizing that these organisations very often don't know how to bid for services or understand issues such as GDPR and will need help to upskill.

This gives larger charities with both national and local reach, including here at Alzheimer's Society, the chance to establish themselves as an infrastructure charity, working to engage and support local charities. It also means these larger charities must rethink how they collaborate with each other. Some of this work isn't new; Alzheimer's Society we worked with smaller charities during the pandemic furlough period to ensure their vital work was maintained. With the landscape of engagement and commissioning changing, at Alzheimer's Society we are now beginning to think through how we pivot as an organization to better work with ICSs. We are mapping our internal structures against the new ICS structures and deciding who and where we should engage.

We know we need to be humbler in recognizing what we do and don't do well. Our greater focus on health inequalities this year is one area in which we know we need to engage with smaller dementia charities to ensure that we understand the needs of people with dementia from an ethnic minority background, for example. On the flip side, our ability to include people with dementia in all the work we do is a skill that is sought after by ICSs. We are thinking through how we offer lived experience engagement to ICSs in a way that is meaningful but doesn't overwhelm our volunteers. We also know that ICSs are looking for data on which to make their commissioning decisions and are working to segment our data along ICS/place lines rather than CCGs.

But our work to date has highlighted that the VCSE sector needs reciprocal support from ICSs. Some conditions such as dementia have less nationally collected data available to them – this should not put us at the back of the queue for engagement. Engagement with people with lived experience should also be purposeful with the ICS aware of what it hopes to gain, so it avoids becoming a tick box exercise conducted to fulfil NHS England guidance. Feeding back to people on how their engagement made a difference is also vital to help build up a strong relationship for the future. VCSE alliances should be meritocratic – starting with each ICS laying out how to join them. Moreover, there is work to be done to understand what good looks like when it comes to larger charities engaging with smaller charities.

While NHS England's guidance was a helpful launch point, further work on how it is being implemented in real life is needed if the VCSE sector and ICSs are to develop a truly refreshed way of working together that harnesses the expertise of both. If we get this right, people with dementia will benefit from care pathways better tailored to their needs and better integration between health and social care. This improved support will reduce the pressure on acute trusts who see the impact of poor care in increased A&E attendances and longer length of hospital stays, hopefully with the view to make winter pressures in future years more manageable.



Trusts are still operating at full stretch

Responding to the latest winter reporting data from NHS England and NHS Improvement, the deputy chief executive of NHS Providers, Saffron Cordery said:

"These figures demonstrate that trusts are operating under sustained pressure, despite the fall in COVID-19 cases in some regions.

"We continue to be concerned about the strain in urgent and emergency care, with the number of ambulances arrivals hospitals the highest so far this winter.

"Meanwhile, the number of adults occupying a critical care bed, and the overall beds occupied in hospital has remained fairly steady – albeit the latter is at a very high level. We are also seeing increasing pressure in paediatric intensive care, with considerably more beds occupied than this time last year.

"The number of delayed discharges has increased once again, despite a drive towards meeting national targets, and is now the highest level on record this winter. This indicates real pressure across the system, including in community and social care, particularly domiciliary care.

"We know that success in reducing delayed discharges is dependent on having enough staff to facilitate discharges and support patients once they are ready to return home or to other community settings.

"That's why we are pleased to see that the number of staff absences due to COVID-19 is now decreasing after the Omicron peak, although it's important to recognise that the total number of staff absences remains high.

"With the final Plan B measures being lifted today, the government will need to keep a close eye on the data over the coming weeks as we know that there is usually a delay between COVID-19 cases and hospital admissions. 

"It is important to recognise that while there are talks of moving towards an endemic, and the current restrictions ending, trusts are still operating at full stretch.

"NHS staff are continuing to work flat out both in terms of COVID and non COVID care, as well as rolling out the national vaccination programme, tackling the backlog of routine care, and supporting social care partners who have suffered from decades of underinvestment."