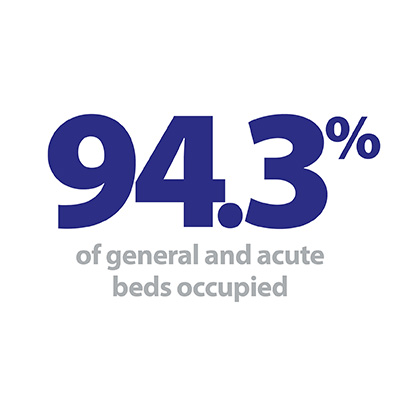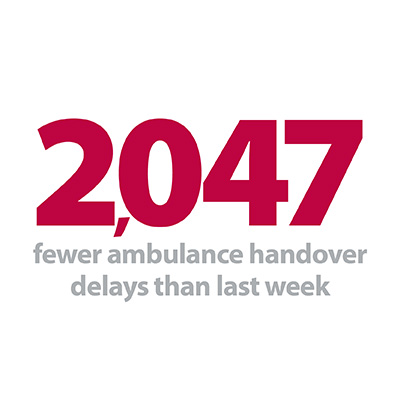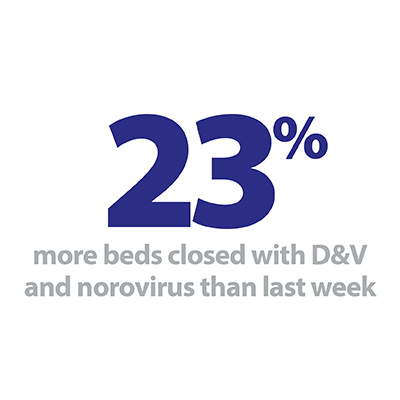 The winter sitreps for week eight continued many of the same trends of the winter so far, but with fewer indicators worse than the previous week this can be viewed somewhat positively given the point of the season. Demand remains very high and there are concerns that a continued increase in D&V and norovirus and other unplanned spikes could push trusts to the brink in the coming weeks.

Bed occupancy was 94.3% this week, down below 95% for the first time since week five but still much higher than the 85% recommended for the most efficient delivery of care. There were fewer escalation beds open for the second week running, but those closed from D&V and norovirus jumped to 773, a rise of 23% on last week. With cold weather forecast across the country there are concerns these challenging times are likely to persist through the rest of the winter.

Key week eight headlines:
3% of all general and acute beds were occupied this week, down from 95.0% last week.
There were 3,860 escalation beds open, down 7% on last week (281 fewer beds) and 13% lower than the high point in week six (581 fewer beds).
D&V and norovirus resulted in an average of 773 beds closed every day, up 23% on week seven.
Length of stay data was very similar to week seven, but these remain much higher than last year.
There was another drop in ambulance arrivals with a total of 93,701 this week, 811 fewer than week seven.
Ambulance handover delays also fell to their lowest levels this winter, with 11.1% delayed by 30 minutes or more and 2.0% delayed by 60 minutes or more.


Bed occupancy was 94.3% this week, down below 95% for the first time since week five but still much higher than the 85% recommended for the most efficient delivery of care.
This week showed a slight drop in overall bed occupancy with several days in the middle of the week seeing levels in the 93% range, but by Sunday this was back up to 94.5%. The number of escalation beds open was again lower than the previous week as trusts juggle demand against other pressures such as availability of staff and resources. More beds were closed with D&V and norovirus this week, and along with a return of cold weather and other unexpected events potentially on the horizon we may expect further pressures ahead.

Patient flow remains a key focus for trusts, with length of stay previously the subject of a national push to improve the discharge of patients to more appropriate care settings. While trusts are continuing to prioritise these efforts at a local level, it is notable that more patients nationally are staying longer than 7, 14 and 21 days compared to last year, as rising pressure in other parts of the service begin to be felt in acute settings. This week there were 44,319 patients staying longer than 7 days, which is almost 2,000 (5%) more than the same time last winter. Similarly, there are 6% more staying longer than 14 days and 7% more staying longer than 21 days compared to last year, although the figures for this winter remain slightly lower than in 2017/18 when conditions were particularly tough.

A positive angle this week is another reduction in the number of patients arriving by ambulance, and a corresponding fall in the number delayed at the point of handover. A total of 93,701 patients arrived by ambulance this week, over a hundred fewer each day than last week, and a thousand fewer each day than the highest week of the winter so far. 11.1% of these arrivals were delayed by 30 minutes or more and just 2% were delayed by 60 minutes or more, both the lowest proportions seen this winter. Directives for more people to be treated closer to home by paramedics, NHS 111 or by visiting pharmacies may be having an effect, and trusts will be keen for this to continue when appropriate over the remaining weeks of winter.



Imperial trust's implementation of a command centre
Lewis Thomas, working in site operations, writes about the recent implementation of a command centre at Imperial College Healthcare NHS Trust and its potential for mitigating winter pressures.

Up until recently our site operations team have depended heavily on paper-based systems to manage day-to-day operations, with reliance on phone calls and emails, and using numerous spreadsheets for capacity management to inform cross-site calls and regular divisional bed meetings.

This winter, we took a key step towards improving our flow management processes by leveraging on digital data solutions in implementing a command centre model. Using "QlikSense" software, we developed multiple data dashboards to give us an insight into the real time situation in many service areas and key points of flow on the patient journey.

The aim of the command centre is to deliver on some key operational areas, including:


recognising changes in activity that are likely to impact on flow
reducing emergency department overcrowding and ambulance handover times
eliminating operating room delays and extended recovery stays
facilitating transfers in and out of and around the hospital
faster patient moves to the right bed in the right place at the right time
reduced time spent on bed related issues

With further enhancements, it also has the potential to improve hospital operations in many other areas, including managing delayed transfers of care, long stay patients and non-elective admissions.
Individual service areas and frontline staff are already experts in the pressures that they face every day. This greater visual insight and application of data empowers service areas to make real-time data-based decisions, and gives us in site operations better oversight to provide support where and when it is most needed.

Hospital director at St Marys and the Western eye hospital
Developed as a truly collaborative initiative between site operations, business intelligence, the emergency departments, other service areas and corporate functions, we have built some core command centre dashboards which include:


trust-wide bed state, showing occupancy and availability by ward, speciality and hospital site
outflow, showing patients with an expected date of discharge (EDD) by ward for the coming days and providing live data on red and green patients
emergency department, including average time in department, speciality referrals and bed allocations
ambulance arrivals, showing predicted versus actual, ambulances waiting, and average handover time
By glancing at our five command centre screens in St Mary's Hospital's site operations office, operational managers can get all the information they need to make immediate decisions to support staff and deliver continuous quality care. The dashboards can also be accessed by any member of staff on all of our computers.

From our business intelligence team's demand prediction model, we know that this week at St Mary's Hospital will be challenging as we expect to be at peak capacity from winter pressures. Our command centre has already given us insight into how to best manage our capacity today and moving forwards by utilising clinical areas and hospital sites experiencing lower levels of demand.
The collaboration between teams across our hospitals and securing the utilisation of real-time information have been key drivers to success in this project.

Deputy head of business intelligence
Looking to the future, the site operations and business intelligence teams plan to continue working closely together to improve the current command centre model. We plan to incorporate a dashboard to focus on patient quality and safety, automatically highlighting any inpatients with a rising national early warning score (NEWS) to the site nurse practitioners. Having an in-house organically developed model allows for unparalleled potential for adaptability and long-term responsiveness in our model and dashboards. The trust is also considering how to best utilise flow digitalisation models in the long term.

Our command centre plays a key role in strengthening operational performance, especially in the context of significant winter pressures. However, this innovation is not just about improving operational performance, it is about delivering on the true universal mission which brings each of us into work each morning: continually striving to improve the experience of each and every one of our patients and delivering high-quality patient-centred care.
Iain Taylor and Gary Cairney with the command centre at St Mary's Hospital in Paddington


Real concerns about levels of resilience in the health and care system
Responding to the latest weekly winter reporting data published by NHS England and NHS Improvement, the director of policy and strategy at NHS Providers, Miriam Deakin said:

"Once again this week the NHS has been under huge pressures, with the number of people occupying beds in hospitals remaining extremely high.

"We're also seeing the increased burden of cases of diarrhoea and vomiting, with nearly 800 beds closed on average each day due to outbreaks.

"Although trusts are working flat out to deliver high-quality patient care on a day-by-day basis, we are worried that the NHS may struggle to cope with any further unexpected spikes in demand.

"It's also important to note that we haven't yet seen exceptionally bad weather and yet trusts are facing similar – if not worse – pressures experienced in 2017, when there were prolonged periods of sub-zero temperatures. We have real concerns about the levels of resilience in the health and care system.

"On a more positive note, this week we have seen fewer people arriving at hospital by ambulance.

"However, we must break the cycle of winter pressures through greater investment in community and social care to help more patients stay out of hospital and be treated closer to home where appropriate."