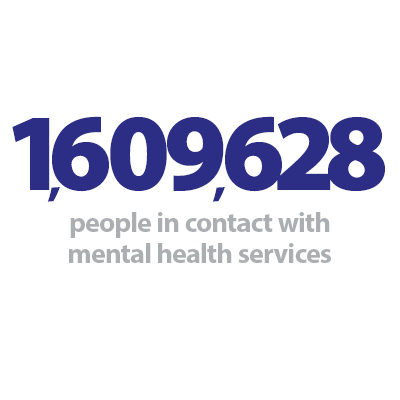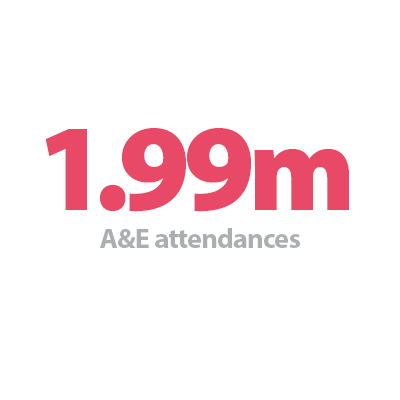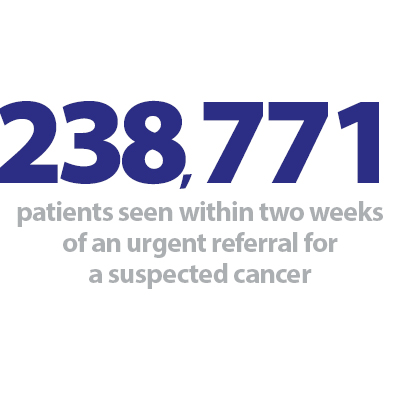 Introduction
Trusts are continuing to work incredibly hard to clear backlogs amid difficult circumstances. There are severe workforce and operational challenges for example staff absences remain high with a daily average of over 63,000 absences registered between 4 and 31 August, of which 15% were COVID-19 related. Additionally, there were on average over 8,000 patients in hospital with coronavirus each day this summer compared to around 3,000 in 2021 and about 2,000 in 2020.

Last month, NHS England published data from July showing the service met the first milestone in the elective recovery plan. Alongside the data released today, we can see again how local collaboration, innovation and ongoing efforts from staff have resulted in sustained activity above pre-pandemic levels and delivery on key recovery priorities.

This month's performance figures
Each month, NHS England publishes statistics looking at activity and performance across a range of services including urgent and emergency care, routine care, cancer, and mental health. Below we set out the latest trend for each clinical area.

NHS 111: Over 60,000 calls a day were received in July, with 79% of them answered.
There was an estimate of 1.87 million calls received in July 2022, equating to an average of 60,038 a day. This is a decrease of 3,314 fewer calls per day compared to the previous month (5.2% fewer).
Of these, 1.47 million were answered (79% of calls received). There were about 2% fewer calls answered compared to the previous month

Ambulance: Average response times improved but targets are still being missed.
August registered 72,470 ambulance category 1 incidents, a decrease of 15% from the previous month's record (12,927 fewer incidents). Compared to a year ago, incidents are 2% lower, but these remain 26% higher than three years ago before the pandemic. Ambulance category 2 incidents have also decreased this month by about 6% to 357,454 since the previous month (22,006 fewer incidents).
National targets were not met again in August, but the average response time across England for category 1 and category 2 calls improved (now at 9 minutes and 8 seconds, and 42 minutes and 44 seconds, respectively).

A&E and emergency care: Another busy month in A&E but there was a slight reduction in the number of patients waiting over 12 hours from decision to admit.
August saw about 1.99 million A&E attendances – this was lower than July (-8%). There were slightly fewer attendances than one year ago (August 2021) and these are now lower (-6%) than three years ago before the pandemic.
Performance against targets for all A&E types was similar to the month before.
The number of patients waiting more than 12 hours from the decision to admit to admission has decreased for the first time since May 2021 to 28,756 compared to last month (-2%) but this figure is still much higher than three years ago before the pandemic.

Diagnostics: Activity remains at similar levels as the same time last year and the diagnostic waiting list has fallen.
In July there were 1.9 million diagnostic tests carried out, slightly down from the month prior (0.6% fewer than June), but activity remains at a similar level to this time last year, even if below pre-pandemic levels, with 124,380 (6.0%) fewer tests being carried out compared to July 2019.
The number of MRI, CT, and colonoscopies have all increased compared to last month, up by 0.5%, 1.1%, and 7.9% respectively.
The diagnostic waiting list has fallen this month but remains high at 1,5 million, now 44% higher than before the pandemic.

Elective care: Activity has increased but the waiting list is at 6.84 million. There was, however, another reduction in the number of those waiting more than 104 weeks.
In July 2022, the size of the waiting list increased again to 6.84 million (2% increase on the previous month). The size of the waiting list is 56% greater than three years ago before the pandemic.
The number of those waiting more than 18 weeks and those waiting more than 52 weeks has increased by 5% and 6%, respectively.
However, the number of those waiting more than 104 weeks has decreased for the sixth consecutive time by 25% to 2,885. This figure peaked in January 22 at 23,778 but is now 88% smaller. Equally, the number of those waiting more than 78 weeks has decreased for the third month in a row and this figure is now at 51,838.
The number of admitted inpatient pathways stayed relatively stable (-0.3%), the number of non-admitted pathways increased by 55% on the previous month, the number of new RTT pathways has also increased.

Cancer: Activity is above pre-pandemic levels for most pathways and performance against the 31-day, 62-day and 28-day faster diagnosis pathways has improved even if still missing key national targets.
In July 2022, there were 238,771 patients who were seen within two weeks of an urgent referral for a suspected cancer pathway. This is up by 4% from the previous month (9,678 more appointments). Activity for the two-week pathway is above levels seen one year ago (6.6% higher) and above pre-pandemic levels also (8% higher).
Activity for the 31-day and 62-day pathways (which aim to start treatment within one month or 62 days from an urgent GP referral) have increased by 1% and remained stable (-0.5%), respectively.
There were 228,218 patients who completed the 28-day faster diagnosis pathway which aims to diagnose or rule out cancer within 28 days of an urgent GP referral for suspected cancer. Compared to last month, this is up by 2%.
Performance against the waiting time standard has remained the same for the 2-week pathway but has improved across the 31-day, 62-day and 28-day faster diagnosis pathways. The NHS is still missing all key national targets.

Delayed discharges: Again, a high proportion of patients continue to remain in hospital despite no longer meeting the criteria to reside, highlighting issues with patient flow and the challenges of supporting patients to recover closer to or at home.
In August 2022, an average of 22,217 patients no longer met the criteria to reside in hospital and an average of 13,388 patients remained in hospital each day. This means an average of 60% of patients remained in hospital each day.
For the week commencing 22 August, 138,452 had stayed 7+ days since they met the criteria to be discharged, 128,438 had stayed 14+ days, and 114,211 had stayed 21+ days. All three figures represent an increase on July.

Urgent community response
As of July, 80% of urgent community response referrals were responded to within two hours.

Mental health: Although numbers for referrals, people in contact, care contacts attended and IAPT referrals have decreased, these figures remain high, with the second highest number of people in contact with mental services on record at over 1.6 million.
The number of people in contact with mental health services has fallen slightly by about 1% in June to 1.6 million (12,802 people in contact), but this is the second highest number of people in contact with services since records began and up by 18% from before the pandemic.
Mental health referrals decreased by 9% in June to 383,634. Compared to pre-pandemic levels, referrals are up by about 23%.
There were 1.94 million care contacts attended, a decrease of 6% since last month (128,537 fewer).
There were 135,381 referrals received for IAPT talking therapies. This is a decrease of 10% since the previous month (14,701 fewer).
In May 2022, the number of out of area placements (OAPs) remained stable at 645. Compared to a year ago, this is down by 7.2% (50 fewer OAPs). Compared to pre-pandemic levels, this is down by 19.9% (160 fewer OAPs than June 2019).

Our view
This month's data once again illustrate the scale of the pressures being felt on the ground, with ongoing high levels of demand across a range of areas. These data are also highlighting the hard work from NHS staff under challenging circumstances as trusts strive to deliver care while undertaking the boldest catch up programme in health history.

This month we have seen the number of patients waiting for tests and checks fall for the third consecutive month, reaching the lowest level since the NHS launched its elective recovery plan. Equally, we are seeing not only increased activity in elective care, but also further progress with the longest waits, with the sixth consecutive drop in the number of those waiting for more than 104 weeks, as well as a third consecutive decrease on the number of those waiting for over 78 weeks. In cancer care, over 26,000 people started treatment in July and more people received cancer checks following an urgent GP referral.

However, some of the past concerns remain, particularly issues around patient flow, as we saw last month, reinforcing the challenges experienced across the social care and health system. In August, we finally saw a fall in the number of patients waiting more than 12 hours from decision to admit to admission, but this figure remains very high compared to pre-pandemic times, when numbers were close to 3,000 a month in a bad winter. The figure is now almost 10 times more. August also saw numbers of the most serious ambulance incidents higher than pre-pandemic levels, adding significant strain to already busy pathways.

We know hardworking NHS staff are delivering high quality care and meeting ambitious delivery targets, but trust leaders continue to be rightfully concerned about the upcoming months with the arrival of winter and its seasonal pressures.



Surgical robot helping to cure patients with prostate cancer at Cambridge University Hospitals NHS Trust

Graham Johnston, day surgery operations manager at Cambridge University Hospitals NHS Trust, discusses how advanced digital technology is helping cancer patients to be treated and to recover more quickly following surgery.

A surgical robot at Addenbrooke's Hospital in Cambridge is helping to cure patients with prostate cancer, enabling them to go home less than 24 hours after surgery. This the shortest hospital stay in the UK for the procedure, known as a robotic prostatectomy, and is being carried about five times a week in the day surgery unit at Cambridge University Hospitals NHS Trust (Cambridge University Hospitals).

The robot is operated by a highly skilled surgeon and removes cancerous tissue by making several small incisions in the patient's abdomen. Not only is this less invasive, with less blood loss and pain, it means patients recover more quickly from their surgery. In the past with open surgery, the procedure needed a hospital stay of round 4-5 days. Now patients are able to go home the next day, freeing up bed space so more patients can be treated, helping to reduce waiting times and cancellations.




Ben Lamb, a former consultant surgeon at Cambridge University Hospitals and who was part of the robotic prostatectomy day surgery team, sat in a control panel in the operating room and guided the robotic arms holding the surgical instruments. He said the robot gave him a high level of manoeuvrability and precision so that he could target the cancerous areas without having to open up the abdomen. This really benefits the patient and speeds up their recovery, but it also means that more people are treated, as they need less time in hospital.

Once the operation is over, patients are cared for on the day surgery unit by specially trained nursing staff, freeing up an inpatient bed in the main hospital. By the next morning, patients are ready to be discharged, to continue their recovery at home. For patients to be going home the next day after a major operation is a huge team effort. While the robot is vital in achieving this, so is the skill and dedication of the team. This includes working really closely with patients before and after their surgery, to give them the support they need, extra training for the nursing staff and building on the outstanding skills of our surgical team.




On 22 July 2022, 64 year old Alistair Forsyth from Peterborough had a robotic prostatectomy at Cambridge University Hospitals. He was diagnosed with prostate cancer and opted for surgery. By Friday 29 July, a week after his operation, Alistair was back at Cambridge University Hospitals to have a check-up and his catheter removed. He said that knowing that he would be home the next day made a real difference to him when weighing up his treatment options. He wanted to be free of cancer, back to work and back to his normal life as soon as possible. Alistair was also pleased that not having to stay in hospital for several days meant that someone else could use that bed space and have their operation.

The Da Vinci robot is used to carry out a number of other operations at Cambridge University Hospitals and was donated to the hospital by the Addenbrooke's Charitable Trust. The charitable trust is currently raising funds to buy Cambridge University Hospitals another robot. The £1.5m appeal was launched in April last year and has already raised £1.36m through donations and pledges, leaving just £142,000 to reach the target. The Addenbrooke's Charitable Trust director of fundraising, Claire Billing, has said that another robot would enable even greater progress in world class surgery in Cambridge, reducing waiting times and speeding up recovery for patients.


Watch Ben Lamb talking about the operation below.


A&E

Cancer

RTT

Diagnostics

Ambulance

Mental health
Pressures on NHS a major concern as we head into winter

Responding to the latest performance figures from NHS England, the interim deputy chief executive and director of policy and strategy at NHS Providers, Miriam Deakin said:

"Today's figures highlight the range of challenges facing the new prime minister and health and social care secretary as they seek to put the health and care sector on a 'firm footing' ahead of winter.

"Trust leaders and staff have worked incredibly hard to deliver more tests, checks and care for patients, but the level of pressure across the whole health and care system is undeniable.

"While the improvement in both A&E performance and ambulance response times in August is testament to the hard work of staff, the pressure on urgent and emergency services – and indeed across the whole system – remains a risk and a major cause for concern.

"The number of people waiting in A&E more than 12 hours after the decision to admit remains worryingly high and ambulance staff are being stretched up to their limit, experiencing the busiest summer ever caring for significant increases in call outs for the most seriously ill patients.

"The total waiting list has risen again with 6.8 million people now waiting for care.

"And the number of people remaining in hospital despite being medically fit to be discharged, often due to the huge demands on social care capacity and staffing is a pressing concern. Despite the best efforts of local trusts and their social care partners, this has a clear and direct impact on the ability of the NHS to provide timely care from ambulance call outs to the 'hospital front door' and onwards.

"The need to support hard pressed staff during the months ahead – given the staggering 132,000 vacancies across trusts – on the back of one of the most challenging summers, remains critical.

"As we wait for the new government to unveil its approach to supporting the NHS this winter and beyond, we need to see extra investment in social care, alongside the NHS to combat the effects of rising inflation and to help meet rising demand. But taking money away from the NHS is not a solution."