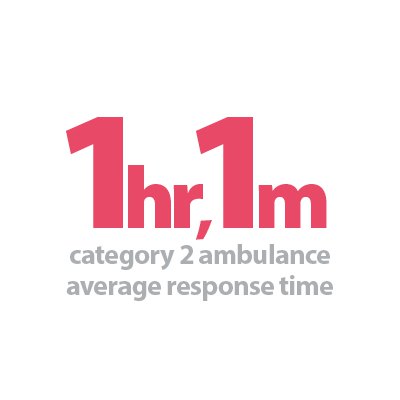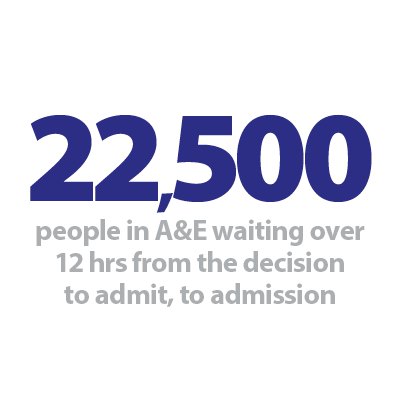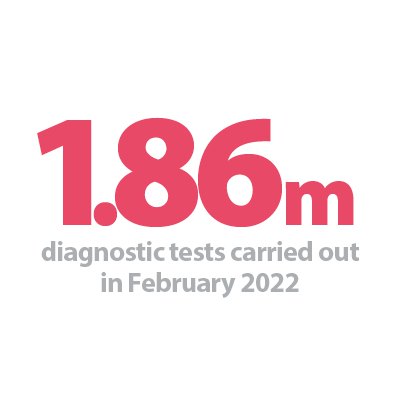 Introduction
Despite there no longer being any COVID-19 restrictions in England, prevalence in the community remains high and the virus continues to have a significant impact on NHS services. As of 13 April 2022 there were 15,399 people with COVID-19 in hospital, and 306 of these people were in beds with mechanical ventilators. Although we know that some of the people in hospital with COVID-19 are in hospital with other conditions and the virus is incidental, all COVID-19 positive patients have an impact on capacity with trusts still needing to separate COVID and non-COVID patients.

High community prevalence also increases the risks of staff being unwell and impacting staff availability. On 6 April there were 91,987 staff absences of which 37.7% were COVID-19 related. The average number of daily staff absences increased over March compared to February. Today's data show that the reductions in staff absences needed to help alleviate severe workforce shortages still seem some distance away.

To help reduce waiting times which have increased over the pandemic, NHS England and NHS Improvement have set several operational targets to help drive recovery. Today's NHS activity and performance figures must be viewed within the context of ongoing operational and workforce challenges presented by COVID-19 and huge care backlogs.

This month's performance figures
Each month, NHS England and NHS Improvement publish statistics looking at activity and performance across a range of services including urgent and emergency care, routine care, cancer, and mental health. Below we set out the latest trend for each clinical area.

NHS 111: An estimate of 1,574,570 calls were received by NHS 111 in February 2022, equating to 56,234 calls a day. Of these 81.5% were answered. There were 14% fewer calls received than in January.

Ambulance: The ambulance service has experienced extreme pressure during March 2022.
Category 1 incidents increased by 21% since February and are 44% higher than a year ago. These significant increases in demand and delays handing patients over to hospitals have resulted in a worsening of ambulance response times.
The average response time for category 1 calls was 9 minutes, 35 seconds in March, against the 7 minute standard. The average response time for category 2 significantly missed the 18 minutes target, at 1 hour, 1 minute, 3 seconds. This is the worst performance since records began for both standards showing real challenges across urgent care.

A&E and emergency care: Pressures on urgent care extended into emergency departments with increased demand and people waiting longer.
There were 2.17 million A&E attendances in March 2022, increasing by a fifth since February and the busiest March on record. Emergency admissions also increased by 11% on the previous month.
Waiting times in emergency departments lengthen as performance against the four-hour standard slips to 71.6% for all types of A&E and to 58.6% for hospitals with a major, type 1, A&E department – significantly short of the 95% target.
Most concerningly the number of people waiting to be admitted after a decision to admit has increased to 22,506; a 37% increase since February 2022 and 68 times more people than the 329 in March 2019.

Diagnostics: Overall, diagnostic activity is still struggling to reach pre-pandemic levels, although there have been significant improvements for some tests.
There were 1.86 million diagnostic tests carried out in February, 31,012 fewer than in January 2022. However, 15% more tests have been conducted when compared to a year ago during the pandemic. Activity is still 2.6% lower than pre-pandemic levels, with 49,956 fewer tests carried out compared to February 2020.
Activity for MRI tests was lower in February 2022 compared to before the pandemic (2.6% below activity in February 2020). However, activity for CT scans and colonoscopies was 7.6% and 4.9% higher respectively, than in February 2020.
The diagnostic waiting list has grown significantly and remains at an all-time high at 1,507,483. The number of patients waiting six weeks or more for a test is at 24%, this figure is down from the month before (30%) but is still missing the 1% target. 

Elective care: In February trusts continued to increase elective care activity and reduce the number of those waiting over a year and two years, making positive progress towards key operational targets.
In February 2022, the size of the waiting list increased by 1.3% to 6.2 million and it is now 40% larger than two years ago.
The number of those waiting more than 18 weeks has increased by 1.9% on the previous month meaning performance against the 92% standard has fallen to 62.6%.
The number of those waiting more than 52 weeks fell by 3.9% in February to 299,478 and those waiting more than 104 weeks fell slightly from 23,778 to 23,281.
Inpatient elective care activity has increased in February 2022 from the previous month with admitted inpatient pathways increasing by 9.2%, with a total of 247,802 inpatient treatments being conducted. The number of non-admitted pathways remained stable with the NHS delivering 1,010,732 non-admitted pathways in February.

Cancer: Activity for a suspected cancer increased again this month, well exceeding pre-pandemic levels, showing the drive to investigate the most urgent referrals.
In February 2022, 220,037 people were seen within two weeks of an urgent referral for a suspected cancer pathway, a 5% increase on the previous months and 16% higher than two years ago before the pandemic.
Activity for starting treatment has plateaued but still exceeds levels observed before the pandemic. On the 31-day pathway, 2% more people started treatment within one month from the decision to treat compared to February 2020. On the 62-day pathway, 4.7% more people started a first cancer treatment within 62 days from an urgent GP referral.
There were also 217,802 patients who completed the new 28-day faster diagnosis pathway, which aims to either diagnose or rule out cancer within 28 days of an urgent GP referral for suspected cancer. This is up by 2.9% from January 2022. 74% of people were told an outcome of their cancer diagnosis within 28 days of being referred urgently by their GP for suspected cancer, just missing the 75% target.
Performance against the waiting time standards has improved this month but the NHS is still missing all key national targets.

Mental health: Demand for services continues to increase for the sector, but there have also been increases in activity and the number of care contacts, showing a very busy time for mental health providers.
In January 2022, the total number of people in contact with mental health services increased by 2.8% to 1,536,580 (41,767 more people). However, compared to two years ago, the number has increased by 10.2% (142,202 more people).
The number of adult open referrals has also increased, by 2.7% to 1,284,223 since the previous month (34,231 more open referrals). The number of children and young people (CYP) open referrals has also increased, by 3.5% to 411,132 (13,985 more CYP open referrals).
In January 2022 mental health referrals increased by 9.1% to 370,607. They have increased by 5.3% when compared to before the pandemic two years ago.
There were 1.99 million care contacts attended, an increase of 8.4% from last month. Compared to two years ago, care contacts have increased by 2.4%.
There were 158,475 referrals to IAPT talking therapies in January 2022, an increase of 26.9% from the previous month. Compared to a year ago, referrals are up by 20.4% but down by 2.9% compared to two years ago.
In January 2022, the number of out of area placements (OAPs) increased to 770, 45 more than the month before. Compared to two years ago, OAPs have increased by 13.2%.
Our view
This month's data show that pressure is piling up right across all NHS services, across urgent emergency care, in the community and for mental health services. The NHS is still juggling COVID-19 care, an increase in non-COVID-19 urgent care, and going full pelt to make activity gains to recover ground and reduce the care backlog.

Urgent and emergency care is clearly under intense pressure with the demand for ambulances at levels the service has never seen before. Our ambulance sector members tell us they are extremely concerned about the widespread nature of handover delays which tie up ambulance crew at hospitals and prevent them from getting back into the community to answer critical 999 calls. The number of patients waiting more than 12 hours to be admitted has reached 22,506, up from 329 three years ago before the pandemic.

While these metrics tell us important things about the urgent and emergency care pathway, they are symptomatic of real difficulties with patient flow across the whole health and care system – in and outside of hospitals.

Today's data also show that, despite the enormity of the challenge, some activity gains have been made for inpatient elective pathways – more people have been seen for a suspected cancer and there are more CT scans being conducted than before the pandemic.

Trusts are facing a triple whammy of COVID-19 related challenges, including high staff absences, significantly more people in hospital with COVID-19 than expected and significant delays in discharging patients as COVID-19 hits social care services.

This means that as we exited winter, when COVID-19 was expected to rapidly decline and urgent care pressures ease, the NHS has not been able to consistently focus on further driving activity to tackle the backlog of care. Trust leaders are keenly aware of the impact delays have on patients and carers and, while they have made some headway by reducing those waiting over 52 weeks and 104 weeks for planned care, they know there is a long way to go to deliver multi-year recovery plans.


East Kent Hospitals University NHS Foundation Trust

Dr James Hadlow, associate medical director for remote and rural strategy, discusses how East Kent Hospitals is trialling a scheme to make it easier for prospective consultants to relocate to the county.

The challenges of recruitment and retention of the medical workforce to remote, rural and coastal trusts are well recognised. We created our Remote and Rural Strategy to tackle this and we have already implemented a number of measures, including our Family First pilot.

Family First aims to attract applicants looking for a substantive consultant post to work with us by pledging to help their partners to find a role at our trust as well. We know there are a lot of factors people consider when applying for a job that would involve relocating – so for families, alongside the benefits of a coastal lifestyle, and the excellent schools we have locally, we can now provide reassurance that we will find a role for partners too.

Of course, partners would need to demonstrate they meet the minimum criteria for any job under the scheme. But if no job is being advertised, and we could accommodate their job role within the trust, the scheme allows us to offer them a role on a supernumerary basis for two years initially, until a substantive post is available.

We believe it is a novel approach but one that could work well, given the size of our trust and the many opportunities we can offer. We are also working with partners across the system to extend the scheme to offer roles in the community, and in future with our local authority partners too and we have already begun to have these discussions such as with our partner organisations in the integrated care system. This could mean partners could apply for jobs as teachers, social care staff or other council roles, as well as in GP or mental health services widening the offer we have for employment within our region beyond an acute trust. The pilot also aims to embrace the role NHS organisations play as anchor institutions and employers within their local communities.

We launched the pilot at the end of last year and as an inclusive employer, equality of recruitment opportunities will be a key part of our evaluation of the pilot.

If successful, we believe it could make a real difference to our workforce and to the health of our communities in east Kent.


A&E



Cancer


RTT



Diagnostics





Ambulance

Mental health
NHS going full pelt but still under real pressure

Responding to the latest monthly combined performance data from NHS England and NHS Improvement, the chief executive of NHS Providers, Chris Hopson said:

"Today's figures show how hard NHS staff are working and, at the same time, how much pressure the service is under.

"Emergency care is under particular strain, with record levels of demand: record A&E attendances for the month of March and record ambulance call volumes from December to March. We're also seeing very concerning increases in ambulance response times and in the number of people waiting more than 12 hours in A&E before admission. Trust leaders are deeply aware of the obvious risks to patient safety here and are doing all they can to manage these risks.

"Trusts are also grappling with the ongoing impact of COVID-19. That's meant more patients with COVID-19 in hospital beds, more staff off work with COVID-19 and more delayed discharges than anyone was expecting or had predicted.

"Trust leaders are telling us that this is the most sustained difficult and pressured period of time they can remember in the NHS, and they are extremely worried about the impact of that pressure on their staff. They are incredibly grateful for how just how hard NHS staff are working and are proud of what they are achieving despite the pressures.

"The NHS has agreed with the government that the service will prioritise those with the longest waits for care and it is therefore good to see the number of people who are waiting more than a year, or two years, for routine operations now reducing. There has also been good progress in the number of suspected cancer patients seen and the number of diagnostic tests performed this month. This reflects how hard trusts are working to recover, and then exceed, pre-pandemic levels of activity.

"But we need to be honest about the four long term fault lines which have built up over the last decade, exacerbated by COVID-19. Between 2010 and 2020 the NHS went through the longest and deepest financial squeeze in its history. It was therefore unable to grow capacity to match growing demand, leaving a significant capacity shortfall. Huge workforce shortages have built up, with 110,000 vacancies and only 27% of staff saying their organisation has sufficient staff to do their job properly. And the government has consistently failed to solve problems in social care.

"Until these fault lines are properly addressed, the NHS is going to remain under real pressure."