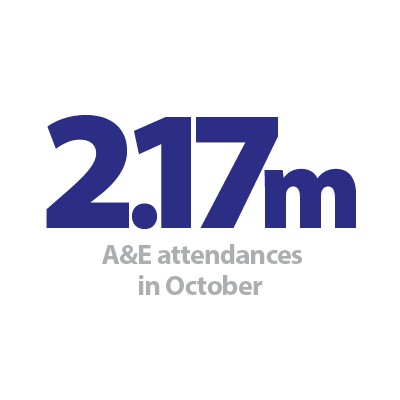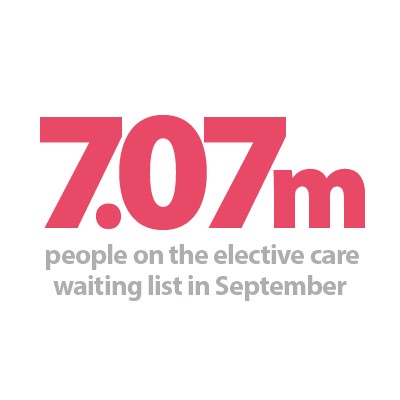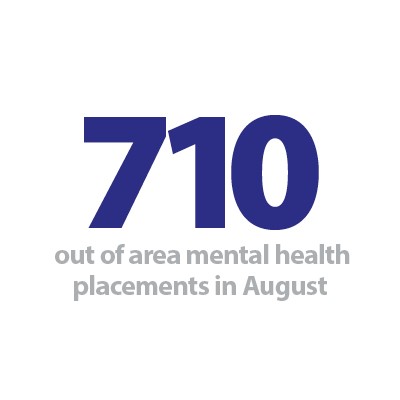 Introduction
With winter swiftly approaching, trusts continue to work incredibly hard to meet unprecedented levels of demand across the service despite challenges arising from staff absences, delayed discharges, and COVID-19.

COVID-19 activity in hospitals remained high with an average of 9,663 patients per day in hospital over October, 45% higher than in September. In comparison to the same time last year, hospitals are seeing 40% more COVID-19 patients in hospital.

A greater community prevalence of COVID-19 also impacts staff availability. In October there was an average of 69,000 staff absences observed, of which 16% (10,843) were COVID-19 related.

The statistics published this month highlight the extreme pressures across urgent and emergency care as well as enormous efforts by staff to reduce the number of long waiters as the NHS prepares for the difficult months ahead.

This month's performance figures
Each month, NHS England publishes statistics looking at activity and performance across a range of services including urgent and emergency care, routine care, cancer, and mental health. Below we set out the latest trend for each clinical area.

Ambulance: Incidents have increased, and response times have deteriorated.
In October, category 1 incidents increased to 83,986, an increase of 20.9% from the previous month. Compared to a year ago, incidents are up by 2.3% and are considerably higher than three years ago before the pandemic (36.4% more). Ambulance category 2 incidents have also increased, by 9.5% to 378,400 since the previous month.
National targets continue to be missed with the average response time across England for category 1 and category 2 deteriorating this month – this is the worst performance since records began. Caution should be taken when making comparisons as London data were excluded from response time figures.

A&E and emergency care: The busiest October on record in emergency departments results in the worst ever performance on waiting times.
In October 2022, there were about 2.17 million A&E attendances, 8.6% more than the number of attendances observed in September. There were 506,635 emergency admissions – this is a 3.9% increase on the previous month but lower than last year or before the pandemic.
Performance against the 95% target for all A&E types has hit an all-time low falling to 69.3%, and the number of patients waiting more than 12 hours from the decision to admit to admission has increased again by a third to 43,792 since the month before, another record high.

Diagnostics: Activity dropped in September but remains high and above pre-pandemic levels.
In September, the number of diagnostic tests fell slightly but remains high with almost 2 million diagnostic tests being carried out, a decrease of 0.7% since last month. Diagnostic activity is also above pre-pandemic levels, with 2.4% more tests being carried out compared to September 2019.
The diagnostic waiting list has increased this month and remains high at over 1.5 million (1,554,651). Compared to September 2019 before the pandemic, the waiting list has grown by 52%.

Elective care: The NHS continues to reduce the number of patients waiting longest but demand for planned care keeps growing as the waiting list reaches 7.07million.
In September the waiting list reached 7.07 million – 60% larger than before the pandemic. The number of people waiting more than 52 weeks increased by 3.7%, but the number of patients waiting 78 weeks or longer or 104 weeks or longer came down slightly.
Activity increased slightly but remains below pre-pandemic levels. Meanwhile the number of new RTT pathways remains high showing sustained demand for planned care.

Cancer: Activity for the two-week pathway has fallen this month and performance against the waiting time standard has deteriorated across all pathways.
Activity for the two-week pathway has fallen in September 2022, however almost 252,000 patients were seen within two weeks or an urgent referral for a suspected cancer pathway (down by 1.2% since last month). Activity for the two-week pathway is above levels seen one year ago (8.9% higher) and above pre-pandemic levels (29.1% higher).
Activity for the 31-day and 62-day pathways (which aim to start treatment within one month or 62 days from an urgent GP referral) have also fallen (by 0.9% and 0.6%, respectively).
Performance against the waiting time standard has deteriorated across all pathways and the NHS is still missing all key national targets.

Delayed discharges: Again, a high proportion of patients continue to remain in hospital despite no longer meeting the criteria to reside, highlighting issues with patient flow and the challenges of supporting patients to recover closer to or at home.
In October 2022, an average of 22,253 patients no longer met the criteria to reside in hospital and an average of 13,613 patients remained in hospital each day. This means an average of 60.1% medically fit patients remained in hospital per day.
For the week commencing 24 October, 151,347 had stayed seven+ days since they met the criteria to be discharged, 140,689 had stayed 14+ days and 126,872 had stayed 21+ days. All three figures have fallen compared to the last week of September.

Urgent community response:
As of September, 83% of urgent community response referrals were responded to within two hours.

Mental health: Due to a cyber incident, national level performance mental health service data for August 2022 have not been published. IAPT and out of area patients (OAPs) data were still released.
There were 145,149 referrals received to IAPT talking therapies in August 2022. This is an increase of 10.2% since the previous month (13,383 more).
In August 2022, there were 710 out of area placements, 25 more OAPs than the previous month. Compared to a year ago, this is up by 2.9% (20 more OAPs). Compared to pre-pandemic levels, this is down by 6% (45 fewer OAPs than August 2019).
Our view
The data published this month shows another surge in demand across urgent and emergency care making it the busiest October on record for providers. The number of the most serious 999 ambulance calls, category 1 incidents, increased by a fifth and A&E attendances increased by nearly 9%. This significant increase in demand has resulted in a widespread deterioration in waiting times. Only one trust with a major A&E department met the 95% target with performance as low as 45% in some places.

The challenges across the urgent care pathway continue to be a symptom of wider system pressures. The high number of waits over 12 hours for admission after the decision to admit signal the ongoing issues with hospital patient flow as people must wait for a bed to become available before being moved to a ward. Discharge also remains a top concern for staff who are working hard alongside colleagues in community and social care to ensure the right packages are arranged. However, the lack of sufficient provision outside of hospital is undoubtedly driving high levels of medically fit patients remaining in hospital.

System wide capacity constraints are compounded by the additional resources needed to treat 40% extra COVID-19 patients in hospitals compared to the same time last year.

Despite these wide-ranging issues, many trusts are exceeding pre-pandemic levels of activity across diagnostics, cancer and mental health services. This is testament to the dedication and hard work of all NHS staff.

As the weather turns colder, NHS trust leaders will be focusing on how they can keep services running and support their staff through what is expected to be a very difficult winter. As usual, NHS Providers will be tracking and commentating on the weekly winter sitrep data from the beginning of December in our Winter Watch series.



Digital innovation helping patients and staff across Northumbria

Director of communications Ross Wigham, at Northumbria Healthcare NHS Foundation Trust, explains how robotic surgery has helped patients and staff across Northumbria during the post-COVID period.

It has been a transformative year for robotics at Northumbria Healthcare NHS Foundation Trust (Northumbria Healthcare) with the trust installing new equipment at several hospital sites and taking part in separate medial trial on hip replacement surgery.

Surgical robots offer some key advantages over conventional surgery and have proved to be less invasive, more consistent and precise with a lower risk for a range of procedures.

By using surgical robots, surgeons can offer much less invasive surgery to more patients, for a wider range of conditions. This means a shorter stay in hospital, with less pain and a faster recovery after their operation.
Last year, the trust started using surgical robots at hospitals in Northumberland and North Tyneside for the very first time, investing more than £3.7m in these new services.
Since then, surgeons have completed around 100 colorectal operations and more than 500 gynaecological and upper gastrointestinal procedures using the new equipment.
Our patients have benefited from faster, lower-risk procedures that typically have a much quicker recovery time while the trust has been able to work more efficiently and tackle more operations.
The robotic equipment has been used by the gynaecology, upper gastrointestinal and colorectal surgical teams.

Surgeons use the 3D vision and special instruments on the surgical robot to have an even greater accuracy of dissection during operations.

In traditional open surgery, clinicians operate with handheld instruments through a large incision, but increasingly it's possible to carry out many operations by making just a few small cuts and then inserting specialist equipment.

Robotic-assisted surgery is much less invasive for patients because it helps surgeons be more accurate and consistent while operating. This technology allows the surgeon to use a special console in the operating theatre that provides an ultra-clear and magnified view while operating tiny instruments that have greater mobility than the human hand, with even more precision.

Northumbria Healthcare now has two DaVinci Xi surgical robots at hospitals in North Tyneside and Cramlington that enable surgeons to use the best technology for the benefit of patients.




As well as this work Northumbria is also part of world-first RACER-Hip study which has received £1m funding from the National Institute for Health and Care Research and, alongside the existing RACER-Knee study announced last year, will give new insight into the value of robotic assisted surgery in the NHS.

Since the summer this Mako robot has been used to increase the accuracy of the hip replacements that we carry out, as they can be positioned to within a millimetre and a degree. For patients, we hope that this means that they feel better with their hip replacements and that they will last longer and have fewer complications or issues.

We're confident that it is safe and installs the replacements more accurately than the human equivalent, but what we don't know is the effect it has on patient outcomes so the study will track progress at regular intervals up to 10 years after their operation.

You can see our robotic surgery at work below:
A&E

Cancer

RTT

Diagnostics

Ambulance
Thousands of hospital beds tied up as NHS sees busiest ever October in A&E

Latest monthly performance figures from NHS England show that October was the busiest on record for accident and emergency (A&E) attendances, with almost 2.2 million.

The number of patients waiting more than 12 hours from the decision to admit to actual admission has risen to its highest ever level, while in October two in three medically fit patients (about 13,600 on average) remained in hospital every day, unable to be discharged.

Meanwhile the backlog of people waiting 18 months or longer for planned treatment was slashed by nearly 60% in a year, more than 70,000 patients.

Miriam Deakin, interim deputy chief executive and director of policy and strategy, NHS Providers, said:

"There is no let-up in the pressure on overstretched emergency and ambulance services.

"Trust leaders and their staff continue to work flat-out and have slashed the longest waits for treatment as well as exceeding pre-pandemic activity for diagnostics, cancer and mental health.

"But unprecedented levels of demand, much higher than before the pandemic, continue to put a huge strain on A&E and ambulance services as the NHS faces its toughest ever winter.

"Nobody in the NHS wants people to be kept waiting but pressure on social care and community services means that hospitals struggle to discharge people who're well enough to leave. That has a serious knock-on effect on available beds and admissions, and leaves ambulances waiting to hand over patients to hospitals, delaying them from further calls. Trust leaders understand only too well the disruption and distress this can cause for patients.

"To ease pressure on the NHS the government must act now to fix chronic staff shortages and an underfunded social care system."