The trust wanted to avoid moving patients requiring end of life care

It worked with a private hospital, providing specialist support

Staff given autonomy to make it work

 
Background
Royal Surrey NHS Foundation Trust provides emergency and general hospital services to a population of more than 330,000 across south west Surrey.

"There was an awareness that there was going to be pressure on beds throughout," says Jo Thompson, clinical nurse manager for enhanced supportive care and palliative care, "we were conscious of a need to consider our capacity."

The trust was offered 12 beds by the private hospital Mount Alvernia in Guildford to provide care to a group of patients. "We were at a stage where things were just rapidly changing within the main trust hospital and patients were having to be moved from area to area, understandably, as maybe they were found to be COVID positive or negative."

For patients at the end of life, this constant movement was far from ideal and the trust decided to use the 12 beds at the private hospital for this group of patients. They could be transferred to Mount Alvernia knowing  that they wouldn't have to be transferred anywhere else, or sent back to the acute sector. Each patient was reviewed by one of three palliative medicine consultants and the goals of care were very clear: providing appropriate end of life care to patients and supporting their families.
Providing end of life care
The Royal Surrey has just been awarded outstanding for end of life care by CQC, "one of the things this report highlighted that we take very seriously, is the environment", says Jo.

"Mount Alvernia was the ideal environment because it was quiet and peaceful. It was all single rooms which was great as it meant that we didn't have to disadvantage COVID positive or negative patients. We had a mix of both and because they were cared for in single rooms it meant that could be done safely."

Because of the individual rooms, patients could nominate one family member who was able to come and visit. Although it was difficult having to tell patients they couldn't have multiple visitors, it was really important to the trust that they were allowed to have at least one person.

The trust also provided daily telephone updates to other family members. These updates were generally provided by the registrar or one of the specialist palliative care nurses, so the families were able to receive a specialist update on their loved one's condition.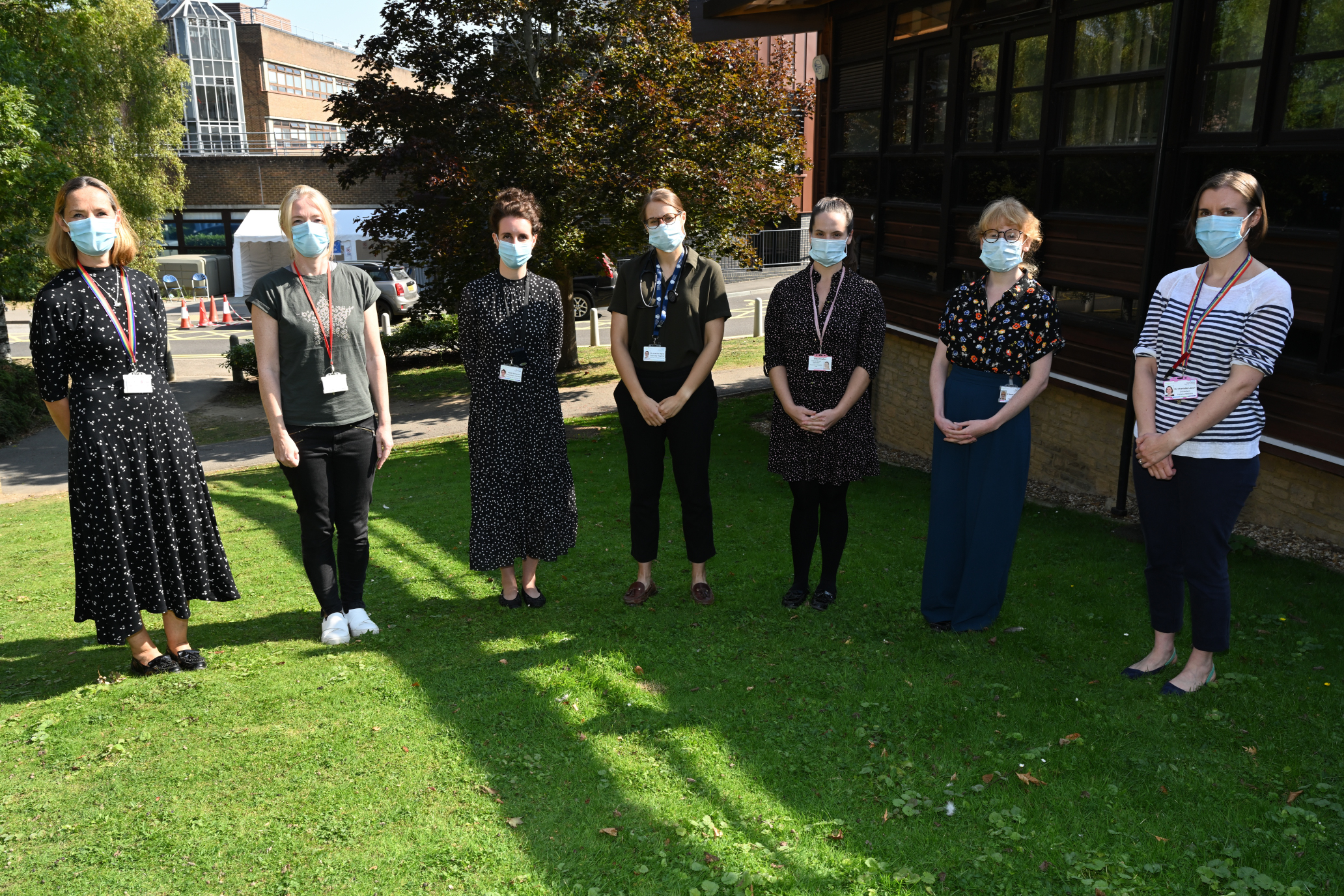 Collaborative working with the private sector
The specialist team from the main hospital worked alongside staff from Mount Alvernia. The main care delivery was delivered by the Mount Alvernia staff, who were given additional training so as not to exhaust the nursing staff needed at the Royal Surrey to treat COVID patients. A Royal Surrey palliative medicine registrar worked on the unit 9-5 each day so there was always specialist input in the care.

Jo explains that the staff at Mount Alvernia were used to looking after surgical patients rather than those at the end of life. "Our role was very much in supporting them to deliver really good care, but also to support them emotionally because it was a very different kind of care," she adds.

Considering the successes of this strategy, Jo notes, "I think what it showed us is that our model works. At the Royal Surrey obviously patients who are at the end of life can be cared for on any ward, and we have a specialist team go to the wards and support staff to care for these patients. End of life care is really embedded in the trust, and we were able to take this model out to another hospital. So, it reiterated that the model we've got is a pretty good one."

On the practical side of things, adapting was essential. "Patients very rarely die at Mount Alvernia as it's an elective hospital," says chief executive Louise Stead, "We had to move quickly to adapt the environment and get practical things in place. They didn't have any shrouds, so we had to take those down to the hospital in the back of somebody's car."

"Knowing that we're able to transfer those patients really quickly, and that they were going to get something which they absolutely could not have got in a COVID site was really, really important to us," Louise adds.
A positive experience for patients
"One of the great things was that we had 29 patients in all, and three of those patients improved to the point that we were able to discharge them, which was just lovely," says Jo. Two returned to care homes and one to her own home, she celebrated her 93rd birthday a couple of weeks later.

In another case, the brother of a patient who had died wrote to the trust thanking them for the lovely end of life care his brother had received. "It seemed like a strange thing to say," says Jo, "but I think it was because the end of his life was spent in such a peaceful environment."

Reflecting on the initiative, Louise commends the work of the team, "Once the decision was made to go ahead with this, it was great that the whole team came together and made it happen. And I think that's one of the things, as you try and run a scenario that you've never been in before you have to allow people complete autonomy as experts in their field to go off and do that. It's about trust in your people. You absolutely can't micromanage these things."