While the vast majority of trusts are confident in their ability to deliver the level of testing required under current guidance, there is significantly less certainty when looking forward to meeting the needs of local patients and communities in the coming months.

Our Recovery position (2020) briefing, published in late June, reflected a high degree of uncertainty around trusts' capacity to return to 'normal' service delivery in general. While 50% of respondents were 'fairly confident' that their trust was able to return to meeting the needs of all patients and service users, only a very small minority (5%) were very confident, and the wide range of estimated timeframes for recovery was telling: 24% said they could do so within one to three months, with an almost identical figure for three to six months, 19% said they didn't know and 12% feared they would never be able to return to previous levels. These findings are reflected in our testing survey, where only just over half (56%) of trust leaders agreed that they have the necessary capacity to test patients that will need testing when paused services resume.

These themes are also further supported by our conversations with trusts – and responses to this survey – on the barriers presented by limited testing capacity. In particular, there is persistent concern around how providers can significantly step up service delivery where they are not able to regularly test all patients and staff. Coupled with this, the need to follow strict infection prevention and control (IPC) guidelines and ensure staff self-isolate when they are identified through test and trace as a 'close contact' of an individual or individuals who have tested positive for COVID-19 places additional pressure on the trust workforces. Indeed, we have been told of instances where the majority of – or whole – teams of staff have gone into isolation, leading to a temporary shutdown of a particular specialist service.

Definitions of what regular testing means – or the required frequency of testing at least – varies between trusts, with over half of trust leaders (54%) calling for testing for all patient-facing staff at least every seven days, and 23% calling for testing every 14 days.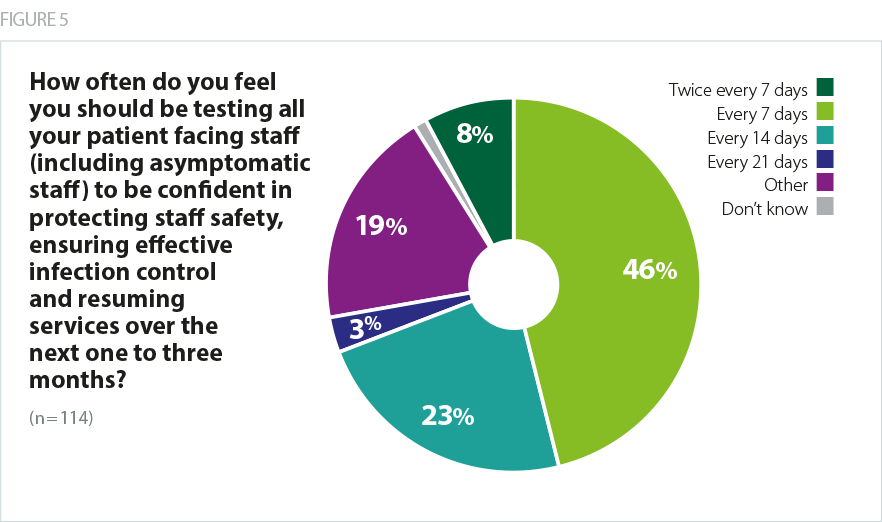 The NHS is rightly emphasising the importance of rigorous IPC within trust sites. Legitimate concern has been raised over the risk of transmission (The Guardian, May 2020) from staff to patients, or from staff to staff within hospital settings, and managing this risk has an obvious impact on the resumption of paused planned services. The 'phase 3' instructions for the NHS, released in a letter to all trust chief executives and chairs at the end of July called for an acceleration of the return to near-normal levels of non-COVID health services.

Trust leaders tell us that efforts to significantly step up the delivery of services would be helped by greater testing capacity, with over three-quarters (77%) of respondents to our survey assigning a high priority to "improving current standard of testing of symptomatic patients and staff (e.g. faster turnaround times)" if more testing was available. "Insufficient capacity to quickly test staff" was cited as one of the three most common barriers to resuming non-COVID services in trusts (by 30% of respondents), alongside "insufficient capacity to quickly test patients admitted for non-COVID care" (31%) and a "shortage of supplies" (34%).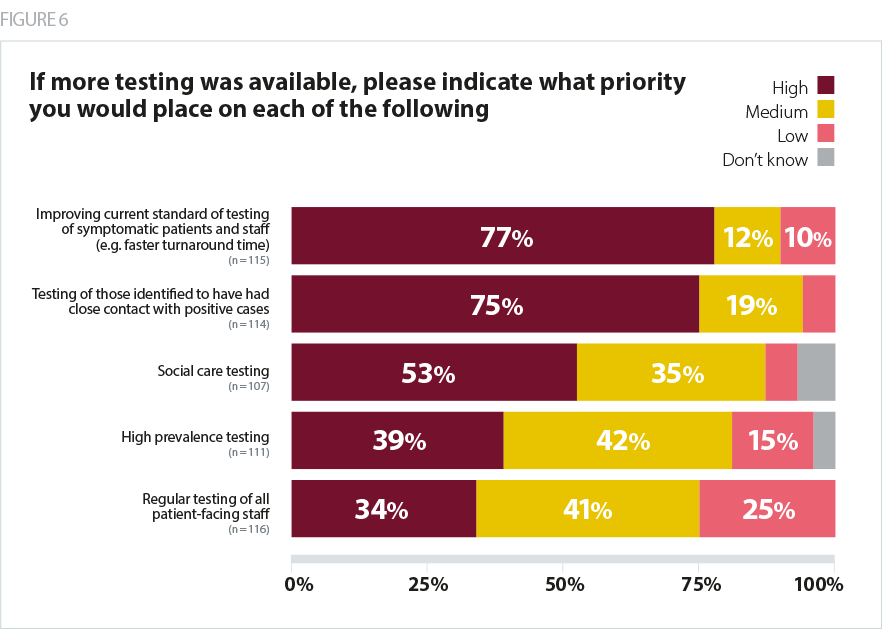 Turnaround times recur as an issue for trusts throughout the text responses in the survey, reflecting concerns raised to us by trust leaders throughout the pandemic. However, reaching the 'gold standard' of 24-hour turnaround times feels unattainable for some organisations, particularly for those outside of the acute sector and where trusts are relying on support from neighbours and independent facilities to meet testing demand. The recent government announcement (August 2020) of two new 90-minute tests to be rolled out across hospitals, care homes and labs is significant, as demand is expected to continue to increase in the months approaching winter. At the time of writing, it remains to be seen what the impact of the new tests will be.

The importance of antibody testing, at various stages held up by the government as a key plank of the wider testing strategy, has since been called into question (British Medical Journal, June 2020), and only a third of trust leaders in our survey (33%) said testing staff and patients for antibodies should be a priority for the NHS at this time. The tests are clearly popular with staff as they gain perceived assurance from the results. Many trust leaders express frustration about the inability to use the results to plan services or deploy staff differently due to incomplete understanding of the effects of immunity, and some note that it may even lead to a false sense of security amongst staff and poor behaviours around PPE and IPC.  

Overall, trusts are struggling to see how all the necessary elements to ensure a significant step up of non-COVID care will come together, and indeed how their stated priorities in relation to testing will be provided for. Only four in ten trust leaders are confident that testing in their identified priority areas will be deliverable in the next one to three months. As well as improving the current standard of testing of symptomatic cases, three quarters of trust leaders (75%) also assigned a high priority to testing those identified to have had close contact with positive cases, and the lack of confidence in expanding and improving the way testing is carried out is a reminder of the challenges ahead. The general lack of confidence is reflected towards another piece of the testing puzzle - the national test and trace service, with only 18% saying they believe test and trace arrangements are currently set up to operate effectively in their local area and 39% 'not confident' or 'not confident at all'.


It is the speed of turnaround that is the issue. We are a hot spot and trying to place and manage patients without their status being known, is problematic.
Don't feel there is a lack of available testing. The issues relate to the purpose of the test and speed of obtaining results… As test and trace service plays a key role - particularly the speed and accuracy of test and trace service – we would not be confident in being able to test quickly enough (or isolate) those who have been in contact with a positive case.

combined Mental Health and Learning Disability and Community trust