1  Identify target population groups
NHS trusts will be aware of the risk factors that  are now linked to a more severe course of illness and prognosis for those infected with SARS-CoV-2, as detailed in the NHS England risk stratification tool development.

For provider organisations, identifying segments of the local population with these heightened risk factors for COVID-19 could provide a useful starting point in marshalling where services can have the greatest health impact on the needs of the local population.

This toolkit aims to highlight some routes previously taken by NHS trusts (some prior to the COVID-19 pandemic) that could help maximise the positive impact of NHS providers' services on the local population, and act as a building block for broader efforts to address health inequalities across the local population. Resources that may be useful for NHS trusts and partners include the updated PHE health equity assessment tool (HEAT) and HEAT e-learning for assessing and driving action on inequalities and equity. Some services have now embedded this process into their business planning or annual service reviews. Examples from practice below, detail where NHS trusts and local health system partners have used routine data to identify local population needs. Additional PHE resources that may be of use include SHAPE to support service configuration, and the local health tools, which can help when considering indicators for small area geographies.
Approach

Example or tool

Outcomes/learning to date

Equity analysis using routine patient data

 

CASE STUDY
Meeting the needs of the population

Barts Health NHS Trust established a trust-wide commitment to address inequity, embedding "meeting the needs of our population" as one of their five strategic objectives. An equalities data working group has begun to identify if any parts of the trust population experienced inequity in access or health outcomes. This work examined an initial basket of indicators setting out to explore aspects of equity such as access, process and outcomes using routine quantitative data. It explored dimensions of equity such as gender, ethnicity, age and deprivation.

Examples of areas examined have included an analysis of DNAs by deprivation; and 28-day readmissions data by protected characteristics.

Barts Health NHS Trust has also analysed qualitative indicators such as complaints and the experience of those with learning disabilities.

Using trust profile data where available

 

Catchment populations tool
PHE NHS acute trust catchment populations tool provides estimates of the potential population which may access a trust's service.  

The tool includes data on trust catchment population by IMD deprivation quintile to help identify areas of inequalities by geography in proximity to a trust.

 

CASE STUDY
Public health report

Chelsea and Westminster Hospital NHS Foundation Trust has developed the trust's first public health report, which identifies the trust's core catchment area and describes the health profile of the local population that they serve. These insights will underpin the trust's work going forward, including delivery of COVID-19 response and recovery activity.

 

Use of population health management (PHM) data

 

CASE STUDY
Barnsley vulnerability index

Before the pandemic, the local health and social care systems lacked information to understand service users' financial or social status, or what was available to them in their neighbourhood. Local systems data sharing had been seen as desirable, but it was not until the first week of the outbreak that this work was able to get underway.

A workforce of analysts from each of the organisations in the system, such as different local authority teams and NHS services, collaborated to develop the vulnerability index. Starting as a list of vulnerable people shielding due to underlying illnesses, it is now a much more sophisticated database which also identifies households experiencing financial difficulties or with safeguarding concerns. Having identified around 65,000 households with some form of vulnerability during COVID-19, this has improved the ability to anticipate and respond to people's needs.

Dr Andy Snell, Public Health Consultant at Barnsley Hospital:

"We are able to risk stratify [people], knowing their risk of health problems, social problems and financial or other problems. We can identify what kinds of needs they have and prioritise support for them based on a much more holistic understanding of health. We've opened the doors to people who we didn't even know needed help. People who are depressed or experiencing hidden harm – they've always been there but we haven't always known about them'. This crisis has at times pushed local systems to work better together in order to provide more effective support. It has also demonstrated how extensively people's health is shaped by social inequalities. Continuing to build on the collaborations formed through the crisis will increase the capacity and capability for local areas to adopt prevention-led strategies."



 

 

CASE STUDY
PHM linked dataset

Bristol, North Somerset and Gloucester clinical commissioning group (CCG) built on their integrated care system (ICS)/ sustainability and transformation partnership (STP) PHM linked dataset to identify at risk patients regarding COVID-19 vulnerability.

The local population was grouped into six clusters to help identify vulnerable patient groups in this work: complex mental health, older complex needs, younger population with asthma, recent cancer diagnosis, drug monitoring and low utilisation of COPD care services.

Identifying at risk population groups

 

 

  

CASE STUDY
Data dashboard

Nottinghamshire Healthcare NHS Foundation Trust worked with their local ICS, using a data dashboard this ensured those with severe mental illnesses were identified to receive support, as this group is often difficult to capture through primary care data alone.

The work enabled community and mental health services to identify individuals under their care who were at risk re COVID-19 (extremely vulnerable). It also helped ensure that the distribution of risk across deprivation and ethnic group categories amongst the local population was understood by all involved healthcare organisations.

CASE STUDY
Barts Health sexual health services 
routine data collection of protected characteristics and a yearly equity audit

The trust reviewed public health datasets alongside clinic collected information to guide service strategy.

Their outreach activity is closely aligned to public health datasets including sexual health reports, small area data and data on sexually transmitted infections and pregnancy, targeting those groups that are noticeably absent and not routinely engaging in mainstream services, e.g. vulnerable young people, refugees etc.

A review of access to services by age highlighted age 16-25 years cohort were not accessing care. This led to development and implementation of in-reach and outreach clinics.

An audit found access was an issue for under- represented communities. Community events were established to increase engagement with the service.

Audit of STI screening by user protected characteristics highlighted low screening offer rates for men. This was addressed via a service change being implemented, which resulted in a 98% screening offer for this patient group.

CASE STUDY
Linking health and local government data to understand social determinants of health (Islington, London)

This project aimed to help assess patterns in the social determinants of health for the local population, to identify unmet needs and inequalities. This involved developing an innovative linked dataset between local council data and NHS data using an encrypted (pseudonymised) unique property reference number (UPRN), which every address in Great Britain has, and is collected on NHS and local government datasets. This would help enable analysis of social determinants factors affecting health at a household level.

The project identified optimal data flows for linking health care data and council data and   developed a proposed data flow model and linkage method, as well as a data specification. A challenge regarding data access request services (DARS) has led to this work focusing on the local linkage of council and health care data using property data only, subject to information governance
Figure 4
Population factors for COVID-19 risk and adverse outcomes
Some factors may be more relevant to particular types of trusts, while less relevant to others.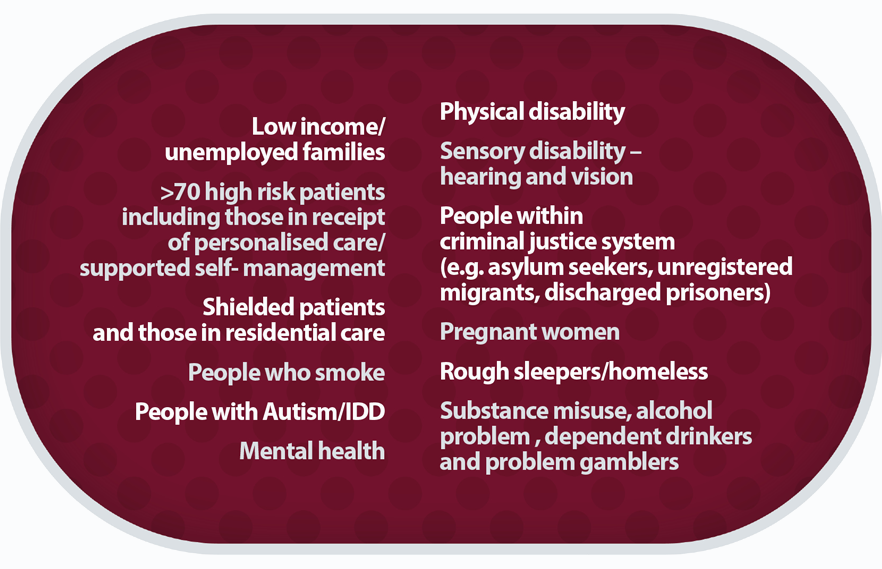 2  Review and adapt approaches
With many innovative approaches introduced at pace during the COVID-19 response – for example integrated workforce and volunteer models - there is opportunity for NHS trusts to consider building on these to strengthen links with community assets and enabling effective prevention, care and rehabilitation pathways. With 92% of trusts reporting concerns about stress and burnout among their staff, reviewing workforce health and wellbeing needs as part of this process will also be crucial.
The Health Foundation has highlighted how NHS trusts in their 'anchor role' can "support and accelerate local recovery from COVID-19", while helping to mitigate some of the significant social and economic impact of the COVID-19 crisis on local populations. NHS trusts are acknowledged as: "large, public sector organisation with a significant stake in local communities and potential to influence their health and wellbeing – [this] could help to mitigate some of the negative social and economic impacts of the pandemic".
Approach

Further detail/example

Outcomes/learning

Establish baseline of local population needs to inform recovery planning

Identify prevalence rates from published studies or reviews that can be applied to the local population. This will help to indicate the potential magnitude of future demand on services.

 

Build on partnership working fostered during COVID-19 response

Build on recent collaborations with local primary care, health, social care, voluntary and community sector and housing partners to help increase capacity for meeting local population health needs.

Examples detailed in Care Quality Commission's COVID-19 insights.

Review data sharing across providers including GP services. 

 

Scenario planning/modelling to inform recovery and service planning

 

 

 

 

 

Where possible, scenario plan and model to estimate expected capacity required to reinstate services and meet local demand. Include workforce, finance and infrastructure.

As part of this, it will be useful to assess what impact the pandemic will have on future demand for services, including mental health services.

Where possible, modelling of the impact of non-COVID-19 demand and a potential wave of late presentations will also provide useful insights for service planning.

This work identified sub-populations potentially at higher risk of mental health morbidity in relation to COVID-19. Estimates of COVID-19 generated mental health demand in sub-populations were applied to local health authority populations. These assumptions were used to develop a dashboard for estimating current and future mental health implications of the COVID-19 pandemic.

CASE STUDY
Assessing demand for mental health care

Lancashire and South Cumbria/Midlands/Cambridge Partnership (further detail in appendix 2).

 

Address health inequalities during service prioritisation 

While planning for addressing backlog of activity built during COVID-19 management and response, consider the prioritisation of services/service user and population groups for greatest impact to help address inequalities.

Information could include:

complexity of needs (population segmentation)
impact of inequalities
unintended consequences
population groups that may require additional consideration, e.g. diabetes and CKD. 

Plan for how the service will address health inequalities, consider prioritising patients who historically have lower uptake of services.

 

Prevention

 

Review change in face-to-face preventative services by deprivation, for example smoking cessation support or weight management and dietetic services. Early indications are there is an association between smoking and COVID-19 severity and a BMI over 30 and poor COVID-19 outcomes.

 

Information

To complement existing NHS England and PHE monitoring already in place, e.g. data collection on immunisation uptake rates and trends, avoiding any duplication of reporting or datasets.

 

Consider targeted interventions for population groups most at risk from COVID-19

 

CASE STUDY
COVID-19 and homelessness

Using existing capacity, South Warwickshire Foundation Trust and Public Health Warwickshire collaborated to deliver a project supporting people experiencing homelessness during the COVID-19 outbreak. 

This project included work to support people in this group vulnerable to COVID-19, to shield, to isolate where necessary, and to risk assess and enable improved physical health and wellbeing.

CASE STUDY
Community COVID-19 testing

'Pop-up' COVID-19 test centre in Harehills, one of Leeds most deprived areas with a high number of BAME communities.

In response to a clustering of cases, public health, communities and housing and adult social care, along with third sector volunteers, set up a COVID-19 test centre at the Bilal Centre. Household outreach to local homes and streets engaged residents raising awareness of key messages and the local testing offer. Voluntary Action Leeds supported the door knocking with community languages (Czech, Urdu and Punjabi).

Local ward members played a key role in shaping the approach, promoting and engaging with local residents through posting repeatedly on the Inner East community committee Facebook page, and local radio – Breeze and Fever FM. The success of the centre is a testament to partnership working across the Council and the wider health and care system.

 The centre was well attended by local residents and the testing positivity rate was high (suggesting effective engagement). Positive and strong communication through Bilal centre's Facebook and WhatsApp platforms helped raise awareness of the testing site with over 300 members. Cabinet Office COVID taskforce commended the project for displaying "huge evidence of collaborative approach across partners and engagement with communities".

New working practices

 

Identify effective new ways of working that emerged during the COVID-19 response. Explore how those of benefit can be embedded in delivery models.

The development of options appraisal and business cases for some of the new service models established during COVID-19 response may help in embedding some of these approaches in practice.

Review uptake of remote consultation use by providers, professionals and patients (including video consultation patterns in primary, community and mental health care). Review digital exclusion patterns, including for patients, provider organisations and across professional groups. (Connectivity across the NHS may not always reliable. Some short-term digital solutions during the immediate response to the COVID-19 pandemic may not be sustainable longer term, for example if higher volumes of activity, or if dependent on ongoing investment).


Many patients at ELFT have been supported to become more familiar with using smart phone or tablet and used their allocated device to keep in contact with their care coordinator, and some have been able to access support via this route.  

CASE STUDY
Addressing digital access issues

East London NHS Foundation Trust, a mental health and community trust, set out to address a digital inequity gap for many of their patients, which was of particular concern during the spring 2020 COVID-19 lockdown, regarding patients accessing virtual support and information from the trust. A cross-organisational programme enabled the refurbishment of old workplace smartphone and digital tablets and allocated to patients, along with support on their use to help reduce digital exclusion amongst this vulnerable population.

 

Benefit across the life course

Identify whether systems still assess effect on medium and longer-term outcomes of service delivery decisions.

 

Figure 5  

Procurement and employment – NHS trusts as anchor institutions

Procurement and employment

 

NHS trusts, as local 'anchors' can help deliver positive local impact when economic, social and environmental wellbeing is considered during procurement. There are increasing numbers of examples of providers utilising their estate and workplace settings to help strengthen community assets, and of environmental sustainability and place-based collaborations with community groups.

Employment, procurement and commissioning: There is a clear opportunity for NHS organisations to use their role as employers to target volunteering and stable employment opportunities at local residents, particularly those furthest from the labour market.

A focused COVID-19 related community drive is aiming to deliver support to over 200 schools; and over 1,000 local students will be supported by the programme, while over 200 work experience placements and 200 apprenticeships with the trust are being created.

CASE STUDY
Barts Health NHS Trust has launched Healthcare horizons, a targeted local employment programme to help people develop careers in the NHS. 

Further case studies with examples of 'anchor institutions' work delivered by trusts and links to relevant resources can be found via the KHub site (free KHub sign-up is required to access this page).

 

Staff risk assessment

Outcomes from workforce risk assessment may help influence working patterns and opportunities for development moving forwards in NHS trusts.

Sources of feedback could include absence data due to COVID-19, any worker deaths due to COVID-19, staff survey data, workforce race equality standard and workforce disability equality standard data, and any COVID-19 related pulse survey data.

Communicate with staff and consult with staff networks and trade unions regarding the approach to be taken to risk assessment and agreeing how a continued dialogue can be maintained.

NHS Employers COVID-19 guidance includes:

occupational health
supporting vulnerable staff
staff returning to work
workforce supply and deployment
enabling staff movement.

 
3  Action plan
Figure 6
4  Integrated care / system collaboration

Undertaking a review to identify and map local population inequalities gaps against a selection of targeted services delivered within NHS organisations will help identify where efforts will have the greatest impact, as well as highlighting potential areas of unmet local population need. This process can also help generate insights on how work already underway within trusts could help to mitigate against a widening of inequalities (and variation in health outcomes) during local health system COVID-19 recovery phase.

Reviewing population inequality gaps across a system can help identify priority actions for service providers, while also strengthening coordination and consistency of approach across partners during the local COVID-19 recovery phase. STPs/ICSs could be a helpful convenor for these conversations, recognising that different system partners will have a variety of intelligence that they can contribute, for example local authorities being well placed to help identify at risk populations. This concerted effort can help to identify populations at increased risk of SARS-CoV-2 transmission and/or more severe consequences of infection, such as people with complex needs and potentially currently underserved populations, for example traveller communities, BAME populations, or those who are homeless.

A cross system review could help to identify what is working well, sources of local assets, and to also help avoid pockets of duplication.

Reviewing data sharing and information governance agreements in place across providers – including GP services – can also enable improved integrated care.

The use of a matrix approach has been adopted across Cambridge, Lancashire and South Cumbria, and the Midlands, to review evidence, identify population needs and to assist prioritisation (see appendix).
5  Leadership actions
As mentioned, ICSs can provide useful cross-partnership leadership support for the coordination of locality services and identifying system-wide needs. Alongside this, leadership at trust-level – including crucially from within NHS trust boards – is pivotal in identifying and addressing local health inequalities, particularly as ICSs can be quite large, and where geographies are diverse, a place-based approach may allow for a more locally tailored response.

The contribution that provider organisations can bring to tackling health inequalities - both those impacted by COVID-19 and those affected by underlying existing inequity – is recognised by NHS England's reference to having "a named executive board-level lead for tackling inequalities" as part of phase 3 COVID-19 response.

Provider-level leadership for addressing health inequalities both during COVID-19 restoration and recovery, and beyond will help to inform coal face action in the first instance. This local intelligence can then be reviewed at ICS level for wider evaluation of how this works out and impacts across the ICS population, on service variations and population health outcomes. This requires a consistent process to enable both local and ICS level accountability for reporting, reviewing and taking action for the ICS population, based on local intelligence.

Individual health and care providers can do much internally to measure, take action, and advise on prioritisation of actions during recovery phases. Recognising that most interventions will take place locally at a neighbourhood level, data analysis and leadership/coordination might take place more at place- and system-level. Local leadership in the first instance is key and may also involve collaboration from NHS trusts with primary care and social care.