The COVID-19 outbreak has had a significant impact on the public's behaviour in terms of whether and how they seek advice, treatment and care.
The majority (80%) of trust leaders agreed with the statement 'fewer non-COVID-19 patients have sought care in the last month'. However, there were significant differences looking across different types of trusts, with 37% of acute trusts, 28% of community trusts and 39% of combined acute and community trusts strongly agreeing with this statement compared to just 8% of mental health and learning disability trusts. This suggests the impact of COVID-19 on people's confidence in seeking help for their health problems has differed considerably for those with physical conditions and those seeking support for mental health issues.
Over half of trusts responding to the survey (58%) have now begun targeted communications with cohorts of patients and the public to encourage people to seek care when they need to, supported by the national Help us help you campaign.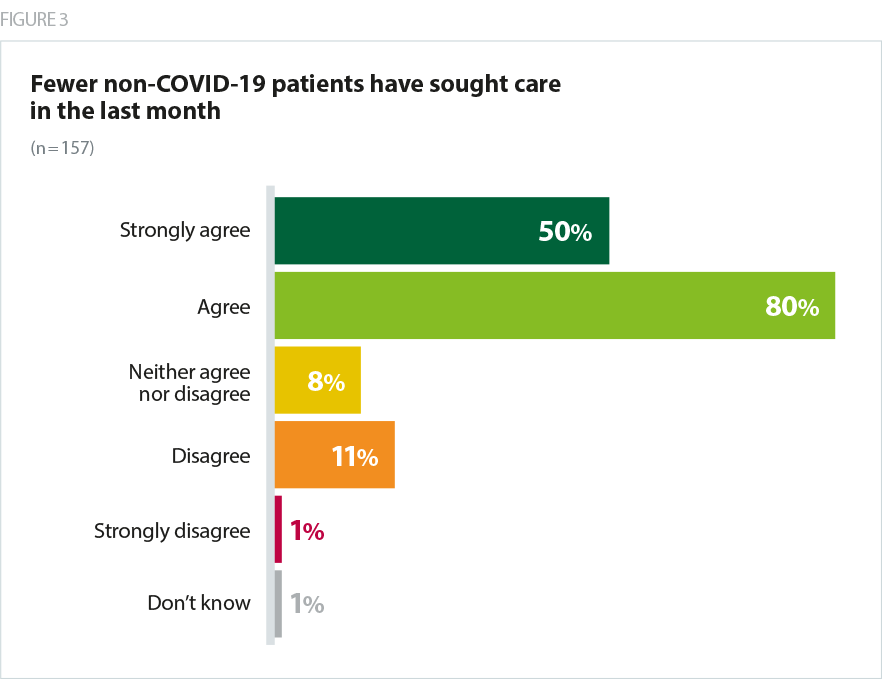 However, although trusts report reduced demand for services during the lockdown period overall, many have seen a rise in the number of late, urgent or severe presentations, especially mental health crises:
More than half (54%) had seen increased demand for urgent or crisis care, increasing to 65% of combined acute and community trusts, and 61% of mental health and learning disability trusts.
This reflects trusts' concern that while fewer patients are seeking help, some of those not contacting them for support are severely unwell and needing emergency treatment at a later stage. This has an impact on how trusts plan for resuming services, as for most – 70% - the size of their caseloads or waiting lists have increased.
The qualitative remarks in the survey also reflected some respondents' concern that all parts of the health and care system be sufficiently supported to meet the challenge of rising demand.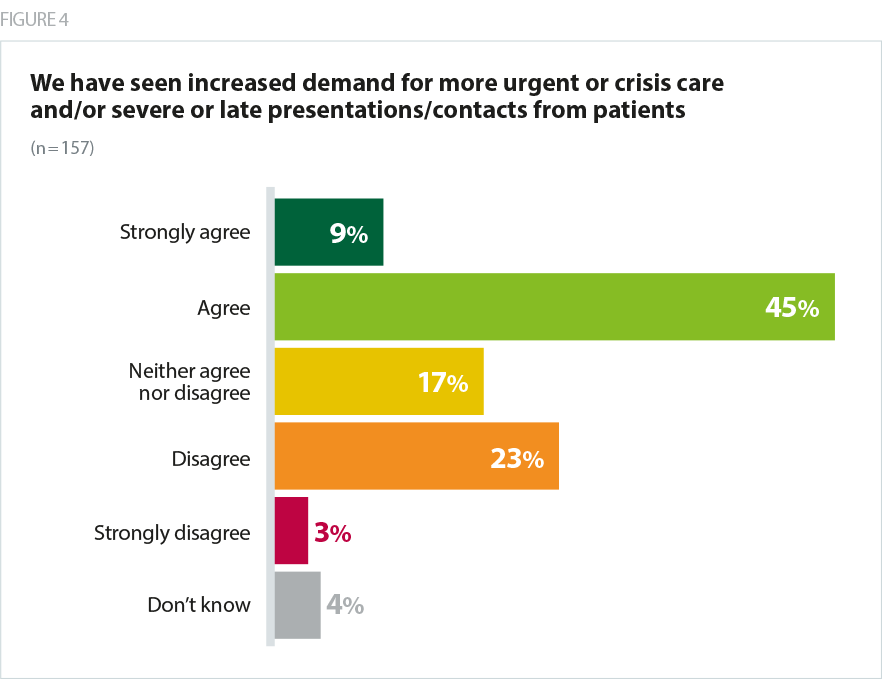 In mental health referrals were down but activity remained high and we have been able to work more intensely with our caseloads and work through waiting time backlogs. We are seeing a steady increase in referrals. We expect a surge of referrals for CAMHS as kids go back to school.

combined mental health/learning disability and community trust
We shall strive hard to meet the needs of all of our patients over time, but what that timescale will be is less clear, even in a community trust we have waiting lists and these have built up. The way that we deliver some services will change radically - talk before you walk - but whether all patients will be satisfied with this will be variable. BAU will not be business as we know it and we shall be supporting many in our communities who have been very badly affected by COVID and will be for time to come.
I'm concerned that whilst the trust is ready to continue to innovate and create the 'new normal' primary care is struggling both practically and behaviourally. It is essential the new PCN contract is asserted toward true and open collaboration and integration. Further it is essential that the expectations and needs of the care homes and domiciliary care functions is reviewed and supported to fully integrate meaningfully into the place based care systems.