Trusts are rightly proud of their achievements in rapidly transforming care since lockdown began, and trusts have seen a dramatic change in the way they deliver services. Almost all (99%) of trusts agreed that they had seen rapid innovation.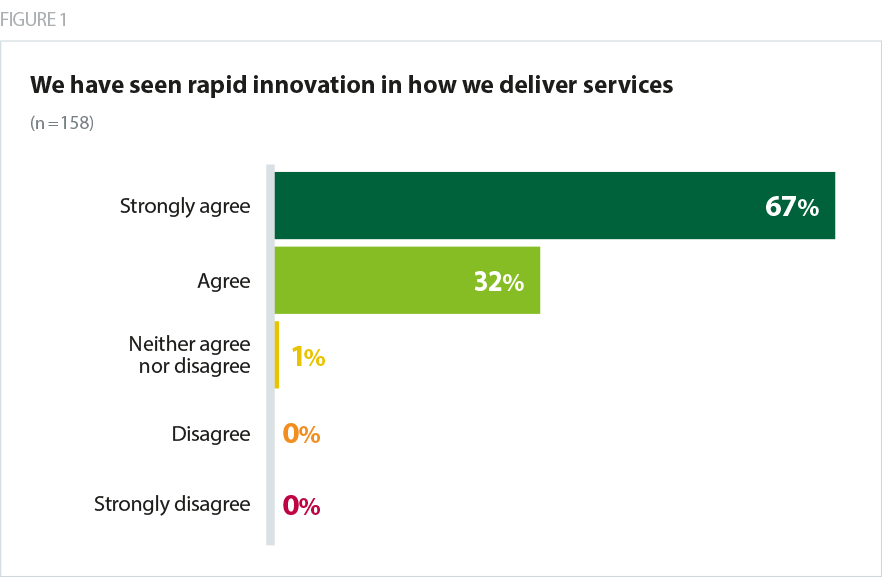 Despite the challenges, trusts have developed innovative ways of managing demand and are putting in place measures to increase the volume of services they provide while keeping people safe.
The majority of trusts (86%) have already increased capacity for remote services (video and telephone appointments) and all trusts (100%) plan to continue providing some care remotely to reduce the impact of social distancing on capacity. Online consultations are likely to be particularly helpful in services where inpatient care and face-to-face procedures are not required, and mental health trusts in particular mention using remote forms of care with a substantial degree of success.
Most trusts (82%) have also implemented social distancing measures, including increased bed spacing, one-way systems through facilities, and separation of COVID-19 and non-COVID-19 patient areas.
COVID-19 has also promoted gr­eater collaborative working in many areas, with trust leaders citing initiatives such as working with other providers to manage demand, use of private sector capacity, and creating virtual wards in partnership with other acute and community providers in the system. With social care and primary care facing their own challenges related to COVID-19, trust leaders are clear on the need to ensure their efforts to increase capacity in their own services remains sensitive to pressures elsewhere in the system, as well as the importance of collaborating to embed good practices established during the
In mental health and community services online consultations are working very well. We are doing around 8,000 per month now in addition to telephone work. The workforce like it and generally so do patients and carers. There are some cases it's not working for, but 80% of the time its great and the clinicians do not want to go back.

combined mental health/learning disability and community trust
We have set up a trust-wide change programme, based on IHI Quality Improvement principles, to plan for and implement recovery and restoration. This will determine what of our old practice we will let go or restart, and what of our new practice we will stop or adopt/adapt (John Wright model). This model is also being used across our ICSs.

combined mental health/learning disability and community trust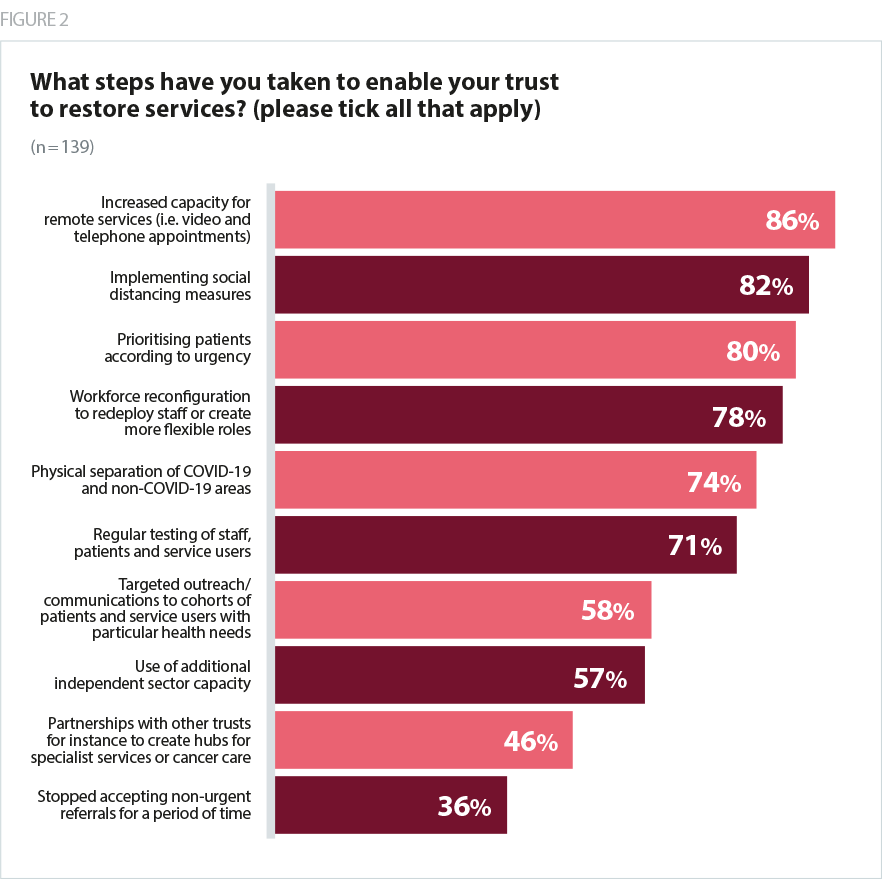 Trusts have expressed confidence in their boards' and workforces' commitment to returning to a place of being able to meet all their patients' needs, but stress the importance of ensuring realism in the conversation about how quickly they will be able to do so, given the ongoing constraints.