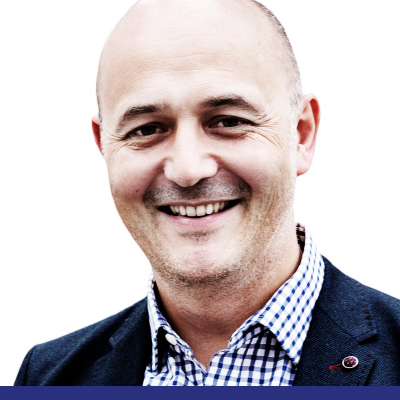 Matthew Shaw
Chief Executive
Great Ormond Street Hospital For Children NHS Foundation Trust
Matthew joined Great Ormond Street Hospital NHS Foundation Trust as medical director in March 2018 and was appointed chief executive in December 2018. He was previously deputy chief executive and transformation director of the Royal National Orthopaedic Hospital and medical director in BUPA Health Services. A consultant spinal surgeon who has worked in the NHS for 22 years, Matthew is a passionate advocate for universal access to high-quality services and champions new ways of working, embracing technology and partnerships to advance care, research and innovation.

We know that if we continue with the current trajectory, specialised commissioning will likely run into very significant financial problems over the next two to three years. We've got ever increasing deficits in specialised services. Plus, there are new treatments coming online that can transform patients' lives, which the public is expecting us to deliver and we want to deliver, but these will increase the pressure on budgets.



Challenges and opportunities of new technology
What we're seeing is an ever-expanding ability to treat people effectively via new technologies, but some of those technologies are phenomenally expensive. If you look at CAR-T cells [genetically engineered T cells for use in immunotherapy], patients who would have had very high mortalities from recurrent cancers are now potentially curable with very expensive technologies where we alter and use cells to attack cancer within the body. We are only treating a few patients at the moment but the inclusion criteria will likely expand over time and it's a technology we think we can use in different areas.

With big data fuelling advances in translational research there are also increasing numbers of effective treatments sitting in the queue for commissioning approval. We can't afford to wait for a 'rubber stamp' when we know that one of these could save or improve a child's life, so we often treat children at our own financial risk. Many Great Ormond Street Hospital (GOSH) patients are affected by rare diseases, which need more personalised treatments, and these are naturally more expensive to develop.

In specialist healthcare, the cost of complexity is magnified by the more universal challenge of volume. Over the last 20-30 years, every westernised health economy in the world has faced growing demand for healthcare, so we have difficult choices to make. The honest conversation we need at a national level is whether we are willing to pay more taxes and spend a higher percentage of GDP on healthcare to fund these new treatments for an increasing population. Or if not, what services we have to withdraw from. In my view, really those are the only two options that you have. Yes, there is the efficiency argument and I accept we can do a lot better – but even the best efficiency programmes in the NHS are achieving 2.2%. Realistically these programmes will have no impact on suppressing the demand for high-cost treatments in specialised services.



Achieving a successful transition to digital working
I am an orthopaedic surgeon by background and if I saw a new patient in outpatients, the hospital would earn about £130, with perhaps £90 for a follow-up. Offering a telehealth consultation instead would earn the hospital just £35.

The smaller price tag is based on a perception is that the telehealth consult is quicker, involves fewer people, and less space. But hospitals are still going to be paying their doctors, nurses and administrators to run these clinics. They will also incur additional costs for licensing, hardware and the infrastructure. Of course, we need to go through a proper design and assurance process to make sure any service changes will benefit safety, effectiveness and the experience of patients and families.
What we're seeing is an ever-expanding ability to treat people effectively via new technologies, but some of those technologies are phenomenally expensive.
We all know that accessing healthcare digitally could offer many benefits – delivering long-term cost savings, reducing the number of missed school days and limiting our environmental impact. All the more reason not to fall at the first hurdle by failing to invest in the changes required. Let's be clear about what the real costs are to make this work – an electronic patient record infrastructure that supports real-time data sharing across organisations, voice recognition, and new apps and wearables that empower patients and their families. We need to upskill our workforce to innovate in this area, and have some buffering of the tariff so that our income doesn't drop by two thirds, but reduces slowly over a number of years. We can reduce our fixed costs and make ourselves more efficient – but that doesn't happen overnight.



Making the STP approach work for specialised providers
In terms of the total NHS budget, £20bn is dedicated to specialised services and the system's been designed for the majority of healthcare services which are local. Now we're having to think around how to retrofit specialist services into a new world of local systems.

The debate at the moment is do you have a specialised commissioning function or do you devolve that budget to these local care systems? At the moment we have one contract with NHS England. Only about 4% of our work actually comes from our STP. If the budgets were devolved to STPs or ICSs, we would have to contract with every single STP in the country.

There are some real pros of the STP model – just getting people together in a room to think collaboratively about this stuff starts to change their attitudes on organisational sovereignty. Legislatively, we are set up to make sure our own organisations succeed, but the whole ethos of the STP is around the system succeeding. The downside of the STP model is the dynamic of wanting to hold onto everything we do in that geographical area. This is a major problem for GOSH because designing great, efficient services for smaller cohorts of patients with rare and complex conditions requires a national perspective.

I chair the procurement group for north central London, trying to look at what cross-organisational savings we could make across hospital boundaries. That's useful to us as we're exposed to those pressures, whether it's cleaning contacts or security. If you look at things like our back-office functions, there's a lot of crossover – the work might be different but the infrastructure to run it is the same. However, in terms of making a significant difference to patient pathways, the work of an STP is less relevant, because it doesn't address the needs of the 96% of patients who come to us from beyond north central London.



Public health role of specialist hospitals
Even though only a very small number of local children will be GOSH patients, the hospital still has an important role to play as a force for good in their healthcare. Despite being based in one of the world's richest cities, there are significant pockets of deprivation near to the hospital with high child-poverty rates, where children are suffering from poor health outcomes. Really importantly, we have committed to becoming a clean air hospital and we collaborate with partners across London to contribute to population-health interventions.
The debate at the moment is do you have a specialised commissioning function or do you devolve that budget to these local care systems?
We host the north Thames paediatric network, which works across all providers in north London and particularly focuses on complex care in children and how we can improve their pathways. Our partners at the UCL Great Ormond Street Institute for Child Health host the National Institute for Health Research children and families policy research unit, which conducts research to support evidence-based policy development in areas from early intervention through to preventing adverse outcomes for really sick and disabled children.

However, the broader child health field is complex, with a bewildering array of national, local and international work going on – so identifying where best to focus our support is not always easy. Every STP has objectives for children – the Healthy London partnership has its own objectives, while NHS England has commissioned children's networks that have their own as well. There are various players in the system, all trying to achieve change that isn't aligned.

Historically, we have engaged with commissioners on designing services that treat diseases, rather than on strategies for prevention. But like other specialist hospitals, we have so much more to offer in terms of data and expertise to inform population health approaches. So it's great that the NHS long term plan has prioritised efforts to develop a meaningful national prevention agenda.
Designing great, efficient services for smaller cohorts of patients with rare and complex conditions requires a national perspective.
We know that we're not doing well enough to make sure kids are vaccinated against preventable diseases. And we know that interventions at an early age can have a massive impact on the length and the quality of people's lives. The problem is that the pay-offs from prevention are not instantaneous. You have to put in the intervention over a number of years before you get the outputs years later. In a system that's always focused on meeting the year-to-year total, it is very hard to make any significant long-term investment.

We've now got more children who are morbidly obese and less active than ever before. They are going to have diabetes and heart disease at a much younger age. That's why demand management in the current context is pie in the sky. Until you start to tackle that, you've got a tsunami of people with multi-morbidity which is now occurring in the 40-50s, whereas previously this was occurring in the 70s-80s. We need a prevention agenda which is appropriately resourced and tackles childhood obesity, which is going to be the killer of our time.