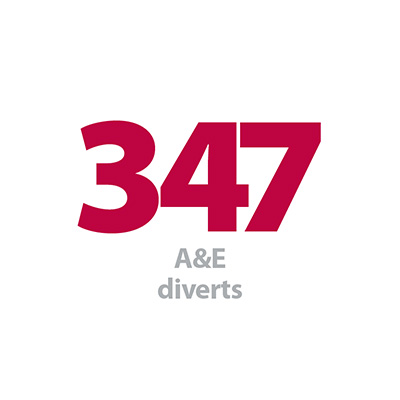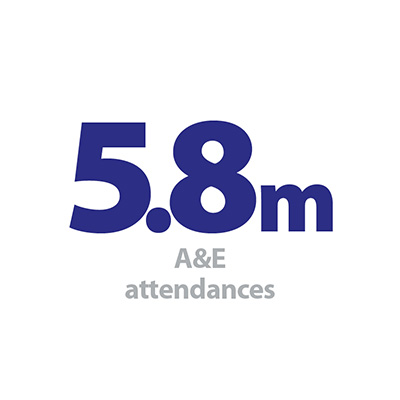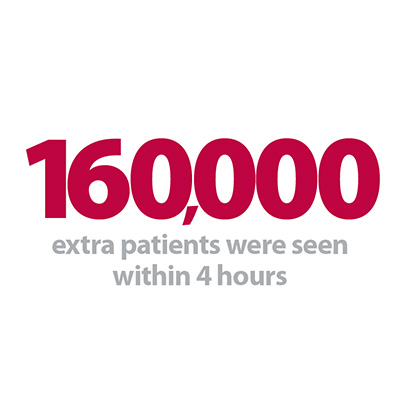 We know that many patients waited longer in A&E this winter than they should have had to. The number of patients accessing A&E services reached 5.83 million over winter; ten times a population the size of Liverpool. The attendance rate grew by 5% compared to last year meaning the NHS saw 261,000 people; roughly equivalent to the population of a city the size of Oxford.
News stories highlighted long queues and people waiting in corridors and outside of hospital wards. This is a level of service that falls below what patients should expect and below the standard of service staff want to provide. These conditions show the extent to which the significant increases in demand had on emergency departments across the whole of the country this year.
The number of people in A&E who needed to be admitted also increased. There were 1.52 million emergency admissions this winter; an additional 85,000 equivalent to a town the size of Halifax– a 6% increase on last winter putting more pressure on inpatient bed capacity.
Another indicator demonstrating the extent of the pressure is the number of A&E diverts (where an ambulance is temporarily diverted to another hospital). Over winter, there were a total of 347 A&E diverts.  The last week of January saw the highest number of A&E diverts reaching 43.
Figure 3
The four-hour target is one of the key constitutional standards and is a promise to patients of the level of service they should expect. For NHS national leaders, the 4-hour target continues to be a key priority heading into 2018/19.
Over winter, performance against the target declined. Performance across the NHS averaged at 85.1% for the winter period. But an additional 160,000 patients were seen withinfourhours compared to the year before. Of those waiting longer than four hours, 1,914 patients spent longer than 12 hours on a trolley from the decision to admit to admission. This was an additional 34 patients more than last winter. However, over the whole year the NHS has seen a 2% fall in the number of 12-hour trolley waits, showing that despite the pressures trusts were still doing all they could to avoid excessively lengthy waits for patients.
So, what did our patients on those trolleys and their relatives tell me whilst I apologised and made enquiries? Their comments were uniformly along the lines of huge appreciation and admiration for the staff and the hospital – and yes they all knew why they were waiting... They were full of praise for hospital and ambulance services alike – with the waiting regarded as an inevitable consequence of NHS pressures.

chief executive, Northampton General Hospital NHS Trust
Trusts across the country struggled to hit the A&E four-hourt waiting time target. Performance at the end of March was at an all-time lowof 84.6%. In March, 139 out of 172 trusts that provide type 1-3 services missed the target. And only 9 of the 137 big acute providers with a type 1 emergency department met the target for all A&E attendances.
Performance for just type 1 attendances was at the record low of 76.4%.
Figure 4
But we should not look at long waits in A&E in isolation without considering the rise in demand.  In 2017/18 there were nearly 24 million A&E attendances; a 2.2% increase on last year. This number of attendances is the equivalent of nearly half (45%) the population of England visiting A&E in the past year.  Over a quarter of a million additional patients, a population the size of Wolverhampton, were seen within four-hours. The number of emergency admissions also reached 6 million; an increase of 3.7% on 2016/17.
The NHS has been able to see more people than ever before and seeing more of them within four hours. , It clear is that the demand for these services is growing at a faster rate than they can be delivered whilst maintaining the existing constitutional standards.