The responses to this survey reveal that that the majority of senior NHS communicators working in trusts are female, white, hold an honours degree, while three quarters have been working in NHS/healthcare communications for seven years or more. The NHS is widely recognised as needing to do more to increase the ethnic diversity of individuals in senior leadership roles, and this is certainly the case for those in leadership positions in communications.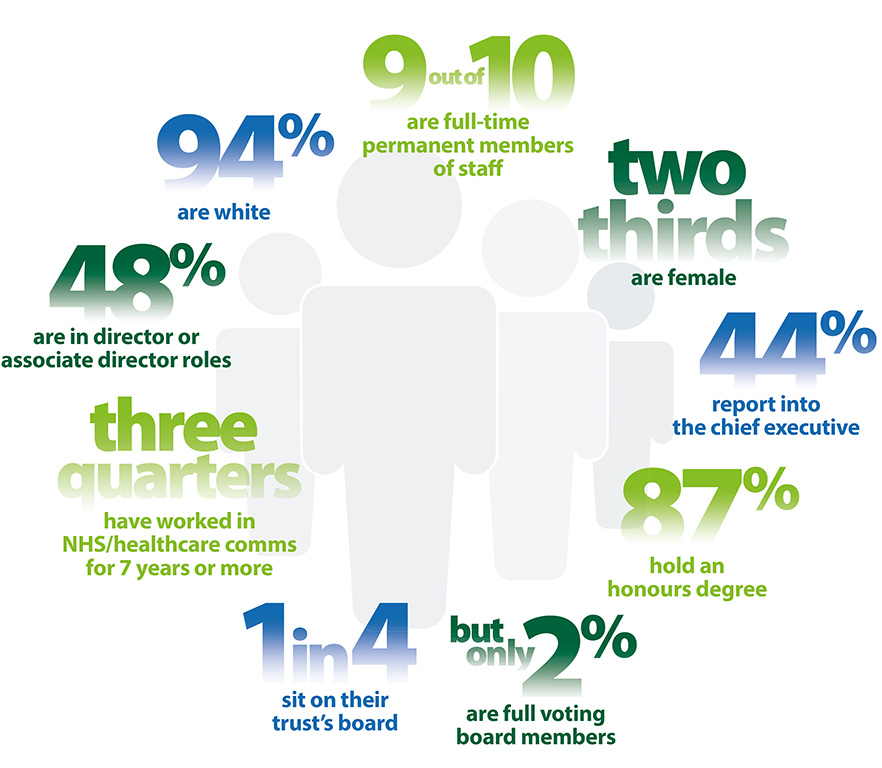 The survey shows that there is significant variation with regard to where communications sits within the internal trust hierarchy. Less than half (44%) of respondents report into their trust's chief executive, with the remainder reporting into a range of positions, including: strategy director, HR director and corporate affairs director. More than three quarters (76%) do not sit on the board of their trust and, of the 24% that do, only 2% are full voting members. A similar recent survey of local authority communicators revealed that this issue is mirrored in local government; with just 35% of respondents sitting on their organisation's corporate or senior management team, and only 25% reporting to the chief executive (Local Government Association 2018).


Figure 1
Very few senior communicators have 'director' in their titles. Less than a third (28%) are directors, with a further 20% as either 'associate director' or 'deputy director'. Instead, the majority (51%) have a 'manager/head' as their job title.


Figure 2

Diversity
The NHS is widely recognised as needing to do more to increase the diversity of those individuals working in senior leadership roles. Trust communicators taking part in this survey were asked to provide details on the diversity of their communications staff, although the survey focused on only two of the protected characteristics – gender and ethnicity. The picture that emerges is one of gender equality but a lack of ethnic diversity among those in the most senior communications roles within trusts.
On average a third of respondent's teams were male and two thirds were female (127 respondents provided details of their teams' gender). On average 90% of respondents teams were white, 7% BME (the remainder either did not know or preferred not to say). 
The lack of ethnic diversity was an issue recognised by many trust communicators as requiring more progress.