Governor Focus 2020
7 July – Congress Centre, London
save the date
Our next Governor focus conference will take place on 7 July 2020. Bookings for this conference will open in early 2020 and we'll be in touch with trusts with more information on this closer to the time. 

Keep an eye on our website or sign up to the governor focus newsletter to find out when the programme will be ready.

Why attend Governor focus conference?
Our national Governor focus conference is the leading free-to-attend event for NHS governors, giving them the chance to network and learn from their peers. A fantastic opportunity to network with governors from across the country and learn from colleagues, hear from sector leaders on issues directly affecting the governor role and explore developments in the sector.

Our last event included speakers such as Chris Hopson, NHS Providers chief executive, Yvonne Coghill CBE OBE, director, WRES implementation NHS England and Imelda Redmond CBE, national director, Healthwatch. Our jam-packed, governor-specific programme will look at the sector through the lens of governors, exploring developments in the health and social care sector and examining issues most directly affecting the role of the governor. 
What our delegates said

"Well worthwhile: very encouraging to meet other governor groups with similar issues and some good solutions"


"A good opportunity to learn from colleagues about how things work in different settings"


"Interesting, informative and good networking."


"Speakers were excellent and the topics covered what was needed. It's good to feel governors are valued and have an important role."

"The networking is extremely useful - came away with some good ideas from elsewhere."


"Overall an essential conference."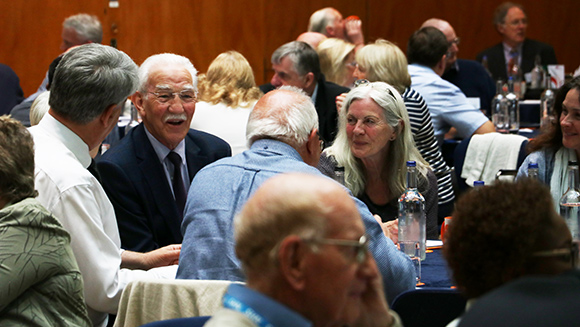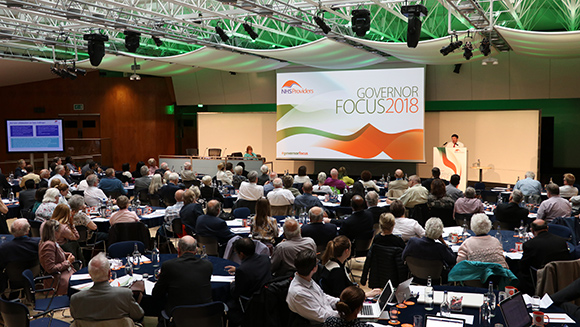 2019 Programme
---
Registration, refreshments and showcase
Welcome and introduction
10.15
Welcome and introduction from conference and NHS Providers chair, Dame Gill Morgan. 
Session 1: Setting the scene - a national policy update
Chris will provide an overview of the key issues facing the provider sector, with a particular emphasis on those areas of greatest concern to councils of governors.
Refreshments, networking and showcase
Introduction to the Governors advisory committee
12.00
Governors are represented at NHS Providers through an elected governor advisory committee (GAC) consisting of eight governors and two foundation trust chairs. The committee meets quarterly and meetings are overseen by a chair that has been voted in by the committee. Mark Price a programme manager for Governwell will explain how the work of the governor advisory committee supports NHS Providers, and introduce the GAC members present at the conference including the chair Peter Abell, who will outline his role.
Session two: Roundtable discussion
12.15
Governors will be invited to discuss topical issues proposed by the governor advisory committee on their tables.
Lunch, showcase and networking
Second afternoon sessions
Governor showcase
Our Governor showcase exhibition area is an opportunity for trusts to showcase the exciting work their governors are doing and any examples of best practice. Each year we invite trusts to apply to take part in our showcase, with the successful applicants given a free stand in our exhibition to display the exciting work they are doing. 

Information about our 2020 Governor showcase will be made available in due course. Please keep an eye on our website and social media pages for information. 
Share interesting practice
In our showcase area, we are always keen to hear what works in terms of councils of governors exercising their statutory duties. Engaging with members and the public is always a hot topic as is developing good relationships with the trust board.
Governor showcase 2019 participants
12 trusts took part in Governor showcase 2019 to showcase examples of best practice and demonstrate how their governors are making an impact. 
Find out more about their work and download their exhibition posters.

The trusts that took part were:
Gloucestershire Hospitals NHS Foundation Trust
Guys and St Thomas' NHS Foundation Trust
Frimley Health NHS Foundation Trust
Lancashire Teaching Hospitals NHS Foundation Trust
Lincolnshire Partnership NHS Foundation Trust
Liverpool Heart and Chest Hospital NHS Foundation Trust
Northumberland, Tyne and Wear NHS Foundation Trust Oxleas NHS Foundation Trust Royal United Hospitals Bath NHS Foundation Trust South London and the Maudsley NHS Foundation Trust Sussex Partnership NHS Foundation Trust Torbay and South Devon NHS Foundation Trust.
2019 Speakers
Dame Gill Morgan
Chair
NHS Providers
Gill joined NHS Providers as chair at the beginning of 2014. Her career in healthcare began as a doctor working in hospitals, general practice and public health before moving into management. Her previous roles include permanent secretary of the Welsh Assembly government, chief executive of the NHS Confederation and chief executive of North and East Devon Health Authority.

Gill is a fellow of the Royal College of Physicians and the Faculty of Public Health and is a member of the Royal College of General Practitioners. While working in healthcare, she served on a large number of national committees and working groups. She has an honorary Doctorate of Science from City University and is a past president of the International Hospital Federation. She is a trustee of the Lloyds Bank Foundation and is a patron of the Infection Prevention Society.

Gill was made a Dame Commander of the Order of the British Empire in June 2004.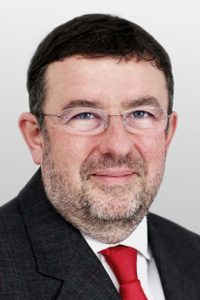 Chris Hopson
Chief Executive
NHS Providers
Chris joined NHS Providers as chief executive in September 2012 after a career in politics, commercial television and the civil service.

Chris leads the organisation, with a particular emphasis on setting strategy, senior stakeholder management, acting as the principal public voice of the organisation and representing the provider sector on a range of NHS system level committees.
Mark Price
Member Development Manager - Governor Support Programme
Mark is responsible for the programme of support and development for NHS foundation trust councils of governors.

Before joining NHS Providers Mark spent over 30 years as an NHS manager, more than 20 of which working at director level, in four different parts of the country. Most recently Mark was Foundation Trust Programme Director and Company Secretary for the Isle of Wight NHS Trust between 2013-2017.
Imelda Redmond CBE
National director
Healthwatch
Imelda Redmond has 20 years' experience working in senior roles in the not-for-profit sector. Most recently she was chief executive of the charity 4Children where she led the organisation through a period of significant change. Before that she was director of policy and public affairs at Marie Curie Cancer Care, and chief executive of Carers UK where she received a CBE for her services to disadvantaged people in 2009. Imelda is passionate about championing patients' needs and ensuring that their views are listened to.
Peter Abell
Chair
Governor Advisory Committee
Now retired, Peter's background comprises in teaching further education to working in senior management. A graduate economist with further qualifications in education and management studies, he's also been an active member of the Labour Party for many years and served in a range of roles including constituency chair, secretary, agent to the MP and county councillor providing him in experience relevant to serving public life. Although he hasn't worked in the health service, his experience as a governor has been positive. Working in a trust which really values the contribution of governors and discovering the governor voice has been incredibly important to him and has led him to the role of chair for NHS Providers governor advisory committee (GAC).
Yvonne Coghill CBE OBE
Director – WRES Implementation
NHS England
Yvonne commenced nurse training at Central Middlesex Hospital in 1977, qualified as a general nurse in 1980 and then went on to qualify in mental health nursing and health visiting. In 1986 she secured her first NHS management job and has since held a number of operational and strategic leadership posts.

Yvonne is currently the director – WRES Implementation at NHS England, She has been voted by colleagues in the NHS as one of the top 50 most inspirational women, one of the top 50 most inspirational nurse leaders and one of the top 50 BME pioneers. Yvonne was awarded an OBE for services to healthcare in 2010. In 2018 Yvonne was awarded a Fellowship of the Royal College of Nursing (RCN), a CBE in the Queen's birthday honours list, an honorary fellowship from Kings College University, honorary doctorates from the Middlesex and Buckinghamshire Universities and has become the deputy president of the RCN.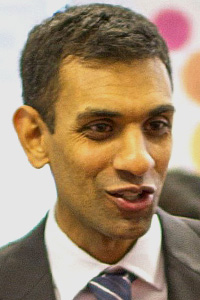 Dr Habib Naqvi
Policy lead, WRES Implementation Team
NHS England
Dr Habib Naqvi has a background in public health, healthcare policy and strategy development. He's the policy lead for the NHS workforce race equality standard, and is leading on the national strategy for this programme. Before joining NHS England in 2013, Habib led on the development of national equality and diversity policy at the Department of Health and Social Care. He managed development of the equality delivery system for the NHS, the establishment of the NHS equality and diversity council, and led on the health sector's response to the ministerial review of the public sector equality duty.

Habib currently sits on several national advisory boards including the advancing mental health equality board, the windrush day advisory panel, and the NHS disciplinary advisory group. He is the national sponsor for the midlands visible NHS leaders network, and provides advice to the board of HMP Springhill. An ambassador for the Mary Seacole Trust, he has experience in academia and research and is an occasional lecturer; he holds a strong portfolio of healthcare research and publications.
Booking terms and conditions
Every trust is entitled to two guaranteed delegate places, and one reserve delegate place, to be appointed by the booker.
Programme details are correct at time of going to press. We reserve the right to make changes where necessary
There may be a photographer or filming at the event and photographs of delegates may be used on future marketing materials. If you do not want your photograph to be taken or used in this way please notify a member of staff on site.