Governor Focus 2020
7 July – Congress Centre, London
Bookings are now open for the next Governor focus conference which will take place on 7 July 2020 in London.

Keep an eye on our website or sign up to the governor focus newsletter to find out when the programme will be ready. This year, each trust will be given two free governor spaces. Please note that spaces are limited and bookings can only be made by the trusts themselves, so to secure places, please book by 26 May 2020 by contacting your trust. After 26 May places will be available on a first come first served basis.

Why attend Governor focus conference?
Our national Governor focus conference is the leading free-to-attend event for NHS governors, giving them the chance to network and learn from their peers. A fantastic opportunity to network with governors from across the country and learn from colleagues, hear from sector leaders on issues directly affecting the governor role and explore developments in the sector.

Our last event included speakers such as Chris Hopson, NHS Providers chief executive, Yvonne Coghill CBE OBE, director, WRES implementation NHS England and Imelda Redmond CBE, national director, Healthwatch. Our jam-packed, governor-specific programme will look at the sector through the lens of governors, exploring developments in the health and social care sector and examining issues most directly affecting the role of the governor. 
What our delegates said in 2019

"Well worthwhile: very encouraging to meet other governor groups with similar issues and some good solutions"


"A good opportunity to learn from colleagues about how things work in different settings"


"Interesting, informative and good networking."


"Speakers were excellent and the topics covered what was needed. It's good to feel governors are valued and have an important role."

"The networking is extremely useful - came away with some good ideas from elsewhere."


"Overall an essential conference."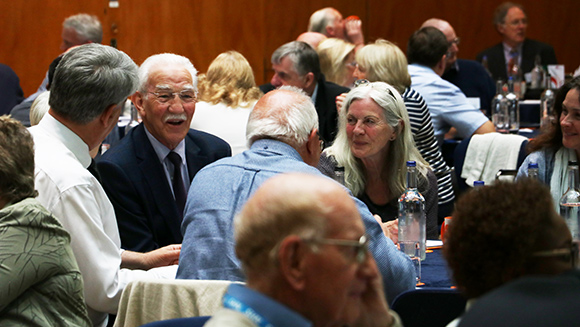 2020 Programme
---
Registration, refreshments and showcase
Welcome and introduction
More information coming soon.
Session 1
More information coming soon.
Refreshments, networking and showcase
Session to be confirmed
 More information coming soon. 
Session two
More information coming soon.
Lunch, showcase and networking
Second afternoon sessions
Roundtable feedback
More information coming soon.
Session three
More information coming soon.
Plenary four
More information coming soon.
Closing remarks
More information coming soon.
Governor showcase
Our Governor showcase exhibition area is an opportunity for trusts to showcase the exciting work their governors are doing and any examples of best practice. Each year we invite trusts to apply to take part in our showcase, with the successful applicants given a free stand in our exhibition to display the exciting work they are doing. 

To apply for a space in the exhibition please download this form and keep an eye on our website and social media pages for information. The deadline for applications is 28 April.
Share interesting practice
In our showcase area, we are always keen to hear what works in terms of councils of governors exercising their statutory duties. Engaging with members and the public is always a hot topic as is developing good relationships with the trust board.
Governor showcase 2019 participants
12 trusts took part in Governor showcase 2019 to showcase examples of best practice and demonstrate how their governors are making an impact. 
Find out more about their work and download their exhibition posters.

The trusts that took part were:
Gloucestershire Hospitals NHS Foundation Trust
Guys and St Thomas' NHS Foundation Trust
Frimley Health NHS Foundation Trust
Lancashire Teaching Hospitals NHS Foundation Trust
Lincolnshire Partnership NHS Foundation Trust
Liverpool Heart and Chest Hospital NHS Foundation Trust
Northumberland, Tyne and Wear NHS Foundation Trust
Oxleas NHS Foundation Trust
Royal United Hospitals Bath NHS Foundation Trust
South London and the Maudsley NHS Foundation
Trust Sussex Partnership NHS Foundation Trust
Torbay and South Devon NHS Foundation Trust.
2020 Speakers
Sir Ron Kerr
Chair
NHS Providers
Ron has spent all his career in the health and care sector and has been a chief executive at national, regional and local level for over 30 years, latterly as chief executive of Guy's and St Thomas' NHS Foundation Trust until 2015. He is currently independent chair of Healthier Together, the Sustainability and transformation partnership (STP) for Bristol, North Somerset and South Gloucestershire and a board member of Genomics England Ltd. He is also a trustee of Guy's and St Thomas' Charity and King's College London. He was knighted for services to the NHS in 2011.
Saffron Cordery
Deputy Chief Executive
NHS Providers
Saffron is NHS Providers deputy chief executive, part of the senior management team and sits on our board. She has extensive experience in policy development, influencing and communications and has worked in the healthcare sector since 2007. Before moving into healthcare, Saffron was head of public affairs at the Local Government Association, the voice of local councils in England. Her early career focused on influencing EU legislation and policy development, and she started working life in adult and community education.

She has a degree in Modern Languages from the University in Manchester, for ten years was a board member and then chair of a 16–19 college in Hampshire and is a trustee of GambleAware, a leading charity committed to minimising gambling-related harm.
Booking terms and conditions
Every trust is entitled to two delegate places to be appointed by the booker. Places are limited so please book your governor places by 26 May.
Programme details are correct at time of going to press. We reserve the right to make changes where necessary
There may be a photographer or filming at the event and photographs of delegates may be used on future marketing materials. If you do not want your photograph to be taken or used in this way please notify a member of staff on site.