Jo Farrar
chief executive
Kingston Hospital NHS Foundation Trust
Background
The trust provides acute services for around 350,000 people in south west London and Surrey. The trust's July 2016 CQC report rated it 'requires improvement'. CQC judged the trust's A&E leadership as inadequate and the inspection team found a lack of consistency in the trust's approach to governance, medicines management, staffing and care in A&E.

A CQC inspection in April 2018 led to a 'double jump' in ratings and now the trust is rated 'outstanding'. CQC said there was a consistent and overwhelming focus on safety of patients and their wellbeing. They also reported that staff were working effectively, cohesively and happily together in a wide range of teams across the hospital.
All about staff
Chief executive Jo Farrar, who at the time of the inspection in January 2016 was the director of finance, acknowledges that they went into the inspection with a sense of realism, but says the findings still came as a blow.

"There was clear disappointment across the trust when the report came through. We tried to focus on the many positives, but staff were upset." The trust had already taken steps to strengthen and stabilise the leadership with the appointment of a permanent chief executive in April 2016 and by August 2017 there was an established and settled team at the top.

"Our absolute focus as a board was on staff and that we treat and support staff in the best way we can so they can deliver the best care.
There is no magic formula to it, but we focused on living and believing our values every day; celebrating successes; learning from setbacks and strong focus on teamwork and supporting each other.
"We did a huge amount on health and wellbeing and recruited a team dedicated to this. A board level committee was set up and chaired by our chair Sian Bates, which signalled to the whole organisation how important this is to the board and the leadership team."

The trust launched its first health and wellbeing strategy in March 2017 focused around four key pillars: physical, mental, financial and family health. Following on from this was a dedicated wellbeing conference for all staff in October that year. In every communication that comes out from the chief executive there is a focus on wellbeing, resilience, speaking up and the importance of looking after each other.

"We need to always properly listen to staff and patients, take their views seriously and act on them."

The trust has also invested a huge amount of time in staff engagement, which Jo attributes to having some of the biggest impact. "There is no magic formula to it, but we focused on living and believing our values every day; celebrating successes; learning from setbacks and a strong focus on teamwork and supporting each other. When you walk around the hospital you can really feel the warmth from staff to each other and when they are caring for patients - it's palpable and overwhelming."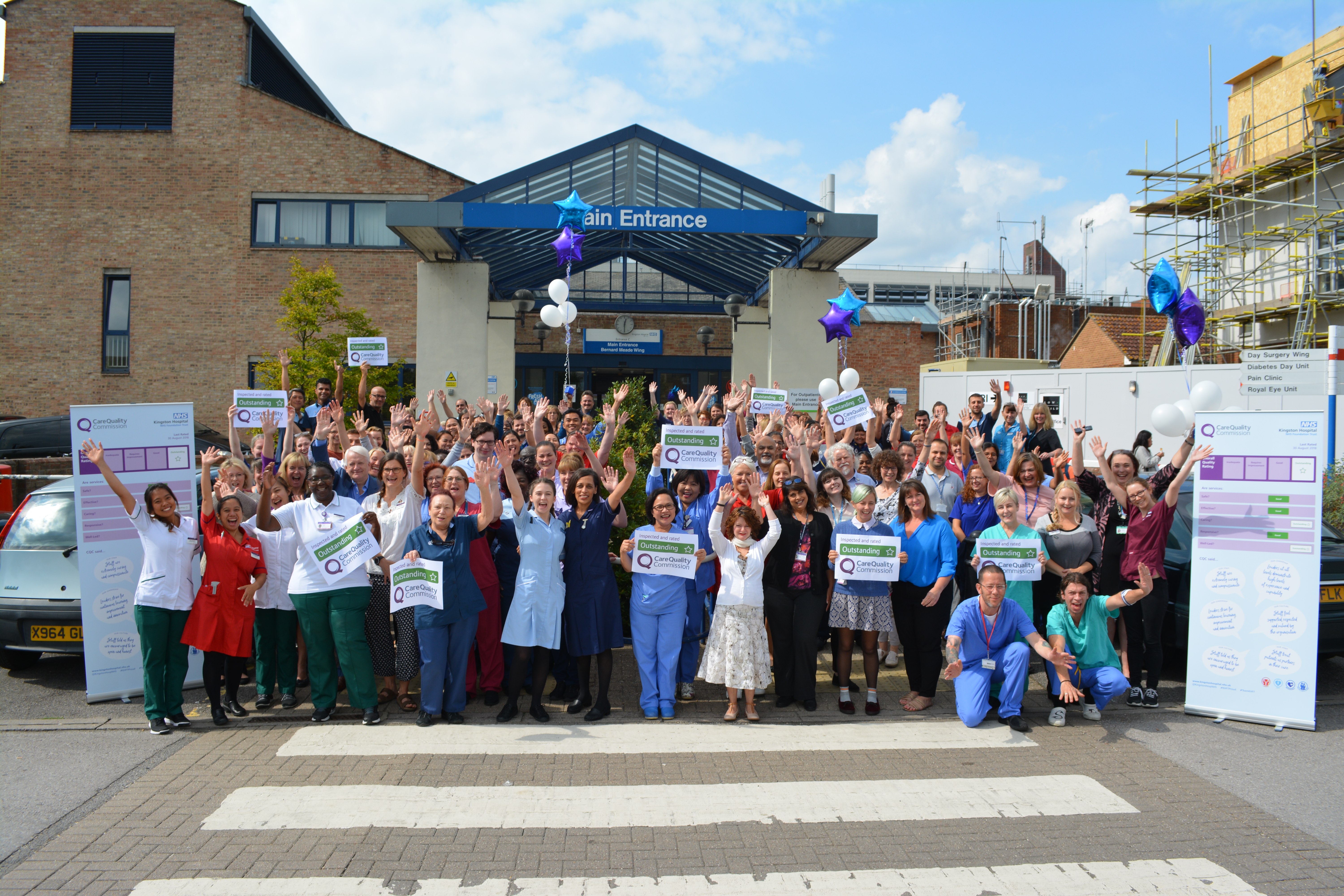 The trust also needed to build confidence externally and since 2016 has focused on delivering on its commitments. "We have built a reputation for high performance and doing what we say we're going to do. We spent a lot of time and energy building partnerships and relationships across the system and with regulators as we had previously behaved as if we were an island."
Strong nursing leadership
Sally Brittain joined Kingston as their director of nursing and quality in October 2017 which afforded her the opportunity to view the organisation with a fresh pair of eyes. The trust was close to achieving a 'good' rating in 2016 but it quickly became obvious that clinical leadership and the voice of the nursing and midwifery workforce were areas for a strong focus to improve.

Sally restructured her senior nursing team to ensure consistency of roles and focus across the senior nursing and midwifery team. This was supported by a trust-wide restructuring which enabled a clinically led organisation in which staff could develop and thrive. It also demonstrated a clear pathway for staff to encourage career progression.

The clinically led organisation raised the profile of midwives, nurses and allied health professionals which by default ensured that those staff groups' voices were heard. This was supported by the development of the nursing, midwifery and allied health professional board and the non-medical funding panel, along with other meetings aimed at sharing information, listening to staff and ensuring equity of access to training and development. "This has been hugely beneficial in creating a really good culture within the organisation of not only caring for our patients but also for our staff." 

There has been a very strong focus on nurse staffing with a bi-weekly 'safe staffing' meeting where staffing risks are managed, establishments are reviewed and staffing data is considered. Matrons attend this meeting to relay staffing concerns in real time and to develop solutions and agree quality improvement priorities. In conjunction with the measures highlighted this has led to excellent recruitment, reduced turnover and improved retention. The trust currently has a nurse vacancy rate of approximately 6% and there are no vacancies within midwifery or neonates.

Sally is clear that being visible, approachable and listening to staff has had the biggest impact. "I love getting my uniform on and spending time on the wards. It is a privilege to observe how our staff care for patients and their relatives, always go the extra mile and show huge amounts of kindness. These are the things that set the trust apart and are the reason why it is outstanding."