The NHS serves over one million patients a day, providing an efficient and equitable service despite the growing pressures it faces. Trust leaders and staff are committed to continually improving the quality of care they provide, and for all major conditions, results for patients are now measurably better than a decade ago (NHS England, 2019), with annual cancer survival rates improving and decreases in heart attack and stroke deaths.


This publication explores how varied trusts have delivered improvements such as these by exploring the leadership approaches and frontline initiatives that underpin improvements in quality. It takes, as a starting point, CQC ratings to demonstrate improvements in the provider sector. As the independent quality regulator, CQC sets out what good and outstanding care looks like and makes sure services meet fundamental standards below which care must never fall. CQC's ratings, based on rigorous inspection and monitoring processes, are important to trusts, commissioners, the public and staff. A CQC rating has implications for a trust's regulatory status, its reputation (locally, regionally and nationally), staff morale and the confidence of patients, services users and the public.
Importantly for the focus of this publication, CQC looks at the leadership of organisations as part of its regulatory approach. Strong board leadership is one of the essential conditions for quality improvement. Trust leaders play a crucial role in shaping an organisational culture in which staff are engaged, supported and afforded the autonomy to make improvements and raise concerns without fear of blame.
The scale and depth of CQC's intelligence and data mean that CQC ratings are a valuable tool for tracking the quality of care over time. However, regulation is just one incentive for improvement and CQC ratings can only provide a snapshot in time. Evidence suggests that the trusts that achieve the best CQC ratings are those that have implemented an internally led, whole organisation approach to improvement (The Health Foundation, 2019).
Therefore this Providers deliver publication considers both the leadership approaches and frontline initiatives that underpin improvements in quality. Through 11 case study conversations, it considers some of the frontline work that has contributed to trusts' improvements in ratings, as well as exploring the role of trust leaders in providing an enabling, supportive environment in which this work has been possible.
The improvements in CQC ratings among trusts featured in this report and beyond over the last five years are particularly remarkable given the challenging environment in which trusts are delivering care. There is intense financial pressure on the provider sector and, despite the additional funding settlement for the NHS announced in 2018, trust leaders are concerned about their ability to deal with the ongoing rise in demand on services. This is leading to more patients and service users waiting longer to access the care that they need, as reflected in recent performance statistics. Trusts are also facing ongoing workforce challenges, with many struggling to recruit and retain staff. On top of this, many trusts are working with out of date buildings, estates, equipment and infrastructure that are not fit for purpose and desperately in need of upgrade.
Therefore we cannot ignore the fact that there is more to do to ensure everyone has access to high quality and safe care in all locations. This must be seen as a journey of continuous improvement for each trust individually and for the health and care sector as a whole.
Over the last five years many trusts have delivered considerable improvements in the quality of care they provide. Whereas in 2014, over half (68%) of trusts were rated 'requires improvement' or 'inadequate' by CQC, in 2019, the majority of trusts (59%) are now rated 'good' or 'outstanding' (Figure 1). Between August 2017 and August 2019 the number of trusts rated 'outstanding' by CQC increased from 14 to 24 and the number rated 'good' increased from 96 to 107.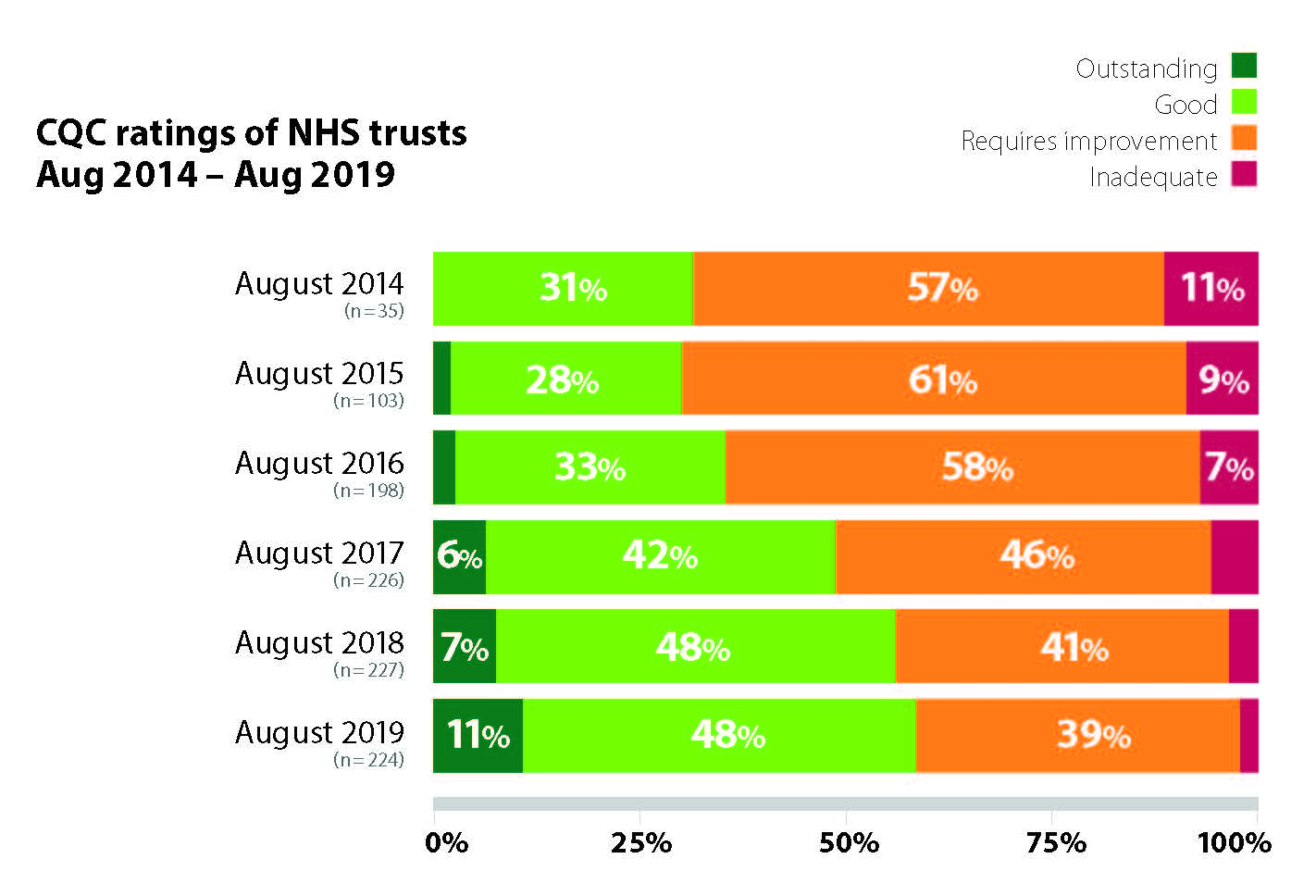 Certain sectors have made particular progress. Since ratings began, the number of specialist acute trusts rated 'good' has increased from two to 11, while the number rated 'requires improvement' has decreased from 13 to 0. Acute trusts have seen the largest improvement in the number of trusts rated 'outstanding', with the number increasing from one to seven trusts since ratings began. There has also been particular improvement among trusts providing mental health and learning disability services - since CQC ratings were introduced, the number rated 'outstanding' has risen from one to three, while the number rated 'good' increased from two to 14.
Ultimately, accountability for delivering and improving care lies with the organisations which provide that care, for the NHS providers sector, with the trust board. This report highlights the strategic decisions, organisational approaches and cultural factors underpinning trusts' improvement journeys. The support from trust boards and executive leaders in shaping organisational culture and providing the resources and infrastructure to deliver improvements is key. But this report also highlights initiatives led by frontline staff, which have had a profound effect on the quality of care. Together, these examples demonstrate the crucial nature of taking a whole organisation approach to improving care.
The importance of the determination and hard work of trust leaders and staff to deliver improvements in care cannot be overstated, and their experiences can offer valuable lessons for others. Through exploring these case studies from trusts which have achieved significant improvements in their recent CQC inspections, this report aims to identify the key factors that have underpinned and enabled these improvements. We hope these case studies are helpful to other organisations seeking to improve the quality of care they provide.
The following 11 case studies reflect a range of approaches that have delivered success. The case studies combine leadership approaches and front-line innovation to deliver quality improvements covering staff engagement, organisational culture, visible leadership and effective use of data. Many of their characteristics overlap, but we have presented them in four themed groups that share an emphasis on how the trust leadership set about improving care.
Our first examples highlight the value of effective staff engagement:
Brighton and Sussex University Hospitals NHS Trust
University Hospitals Bristol NHS Foundation Trust
North Tees and Hartlepool NHS Foundation Trust
Kingston Hospital NHS Foundation Trust.
Our next case studies reflect the benefits of a clearly defined and well directed organisational culture that embraces learning:
Chelsea and Westminster Hospital NHS Foundation Trust
Cornwall Partnership NHS Foundation Trust
South Western Ambulance Service NHS Foundation Trust.
A key trait of the next examples is visible and approachable leadership:
Dorset Healthcare University NHS Foundation Trust
Our final case studies demonstrate the value of monitoring and acting on data:
Hounslow and Richmond Community Trust
London Ambulance Service NHS Trust.