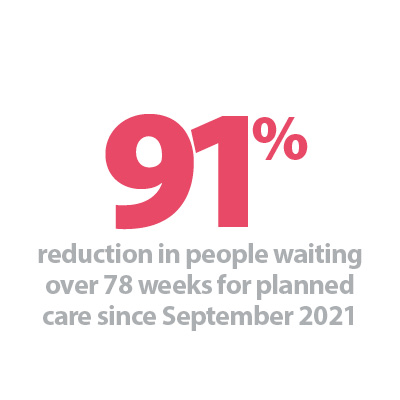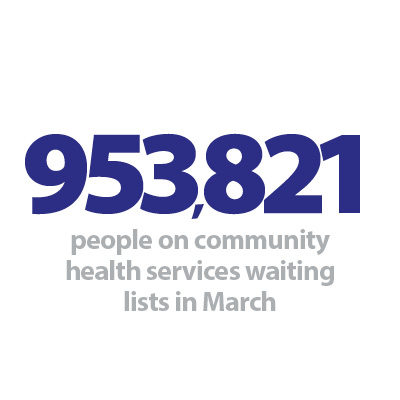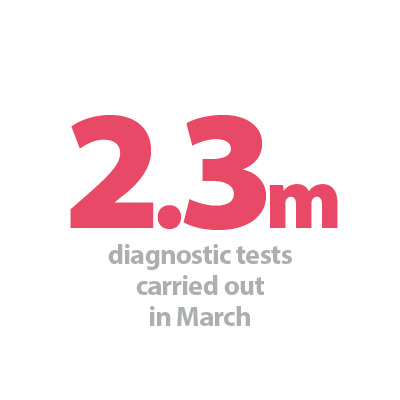 Introduction
Today, NHS England has published the latest figures for performance and activity. These statistics, as always, offer valuable insight into the pressures facing the provider sector.

The data show the strides trusts are making in recovering services, including carrying out more diagnostic tests than ever and bringing down the longest waits. Although a challenging picture remains, the figures show the efforts of frontline staff to treat high numbers of patients and tackle waiting lists across physical and mental health services.

This month's performance figures
Each month, we look at activity and performance statistics across a range of services including urgent and emergency care, routine care, cancer, mental health and community services. Below we set out the latest trend for each clinical area.
Ambulance: April saw response times for emergency incidents cut by more than an hour (compared to December 2022) to the lowest level in nearly two years.
Category 1 incidents have fallen by 6.4% to 72,005, 6% fewer incidents compared to a year ago but 32.1% higher than before the pandemic in April 2019. Category 2 incidents have also fallen by 4.6% from the month before to 361,133. Compared to 4 years ago, category 2 incidents are down by 5.8%.
The average response time for category 1 calls fell to 8 minutes 7 seconds, missing the 7-minute target. This is down from 8 minutes 49 seconds last month. The average response time for category 2 calls also fell to 28 minutes 35 seconds, meeting the 30 minutes target.

Emergency care activity: Fewer A&E attendances were registered in April and performance against the four-hour target is the highest since September 2021 and February 2022, respectively.
There were 2.03 million A&E attendances, a smaller number compared to the number of attendances observed the month before (6.3% fewer). There were about the same number of attendances compared to one year ago (0.1% more). There were 490,787 emergency admissions in April, a 7.8% decrease on the previous month. This is a slight increase of 2.3% compared to a year ago.
Performance against the 95% target for all A&E types increased to 74.6%, the highest it has been since September 2021 (75.2%). Performance against the type 1 target also increased to 60.9%.
The number of patients waiting more than 12 hours from the decision to admit to admission has decreased by 32.2% to 26,899 since the month before. This figure is still nearly 6,000% higher than the same month four years ago before the pandemic, when this number was 442.

Elective care: Activity has increased across the board in March, but the waiting list also increased and is now at an all-time high. However, the number of those waiting more than 78 weeks has decreased this month.
The number of admitted inpatient pathways and non-admitted pathways have increased by 10.8% and 9.6%, respectively, on the previous month. The number of new RTT pathways in January also increased on the previous month from 1.6 million to 1.9 million. 
The size of the waiting list increased by 1.6% to 7.33 million. The size of the waiting list remains considerably greater than three years ago just before the pandemic (+67.2%).
The number of those waiting more than 18 weeks has also slightly increased compared to the previous month (+1.3%). Those waiting more than 52 weeks remained somewhat stable at 359,978 (-0.7%) however, those waiting more than 104 weeks has decreased by 46.1% to 559. The number of patients waiting more than 78 weeks has decreased this month by 63.9% to 10,737.

Cancer: Over 260,000 patients were seen within two weeks of an urgent referral for a suspected cancer pathway, the second highest month on record. Performance against the waiting time standard has improved for the 62-day wait pathway.
Activity across the two-week pathway has increased by 13.3% since last month, the second highest month on record, above levels seen one year ago (+2.6%) and above pre-pandemic levels (+31.2%). Over 29,000 patients completed the 31-day pathway, which aims to begin treatment within one month from the decision to treat, also the second highest month on record. This is up by 14.2% since the last month and higher than it was one year ago (+3.5%) and above pre-pandemic levels (+16.5%).
Over 16,000 patients completed the 62-day pathway, up by 15% from the previous month and the second highest month on record for this pathway. This pathway aims to start a first cancer treatment within 62 days from an urgent GP referral. Activity for this pathway is higher than it was this time last year (+5.1%), and also above pre-pandemic levels (+22%).
All key national targets have still not been met this month: 84% of urgent GP referrals were seen within two weeks, missing the 93% standard, 92% of people started treatment within one month of the decision to treat, missing the 96% target; 64% of people who started treatment did so within two months of an urgent GP referral, missing the 85% target.

Diagnostics: Although the waiting list has increased from the month before, March was the highest month on record for diagnostic activity.
In March 2023, 2.3 million diagnostic tests were carried out, an increase of 12% from the month before and the highest month on record. Activity is 11% higher than one year ago and 16% higher than pre-pandemic levels.
The number of MRI, CT scans, and colonoscopies have all increased compared to last month, all up by 11%. Activity remains higher than the same time last year and pre-pandemic levels for all MRI CT and colonoscopy tests.
The diagnostic waiting list remains high at 1.6 million, a 2% increase from the month before and 4% higher than the same time last year. Compared to March 2019 before the pandemic, the waiting list has grown by 52%.
The number of patients waiting six weeks or more for a test is at 25%; this is the same as the month before and is still missing the 1% target.

Discharge delays:
In the latest month, there were an average of 22,204 patients who no longer met the criteria to reside. Of these, an average of 12,760 (57.5%) patients remained in hospital. This is a similar level to the month before (57.6%) and remains high.
In the week commencing 24 April, for patients with a length of stay of 21+ days, there was an average of 111,705 additional days in total where patients have remained in hospital since the criteria to be discharged decision was made. 

Community services:
As of March 2023, the total reported waiting list in England was 953,821, 6% higher than the previous month and 5% higher than October 2022, when the data collection started. 726,331 of these relate to adult services, an increase of 6% from February and 227,490 of these relate to children and young people's (CYP) services, up from the month before (+6.7% more than last month).
For adult services, over 107,300 people have been waiting 18-52 weeks for treatment accounting for 15% of the total adult waiting list. There are 13,129 people who have been waiting for over 52 weeks, 13.5% more than the previous month and accounting for 1.8% of the adult waiting list. For CYP services, over 68,000 have been waiting 18-52 weeks, making up 30% of the total CYP waiting list. There are 13,670 CYP who have been waiting over 52 weeks, up from last month (+6%), accounting for 6% of the CYP waiting list.

Mental health:
Caution should be taken when interpreting these figures due to the recent cyber incident. However, impact on the following data is understood to be limited.
There were 148,669 referrals to talking therapies in February 2023. This is down by 9.2% since the previous month (15,050 fewer). Compared to a year ago, referrals are down by 4.4% and down by 0.7% compared to three years ago (February 2020).
90.3% of referrals who finished a course of treatment in the month accessed IAPT within six weeks, an increase from the previous month (90.1% in January 2023).
There were 790 out of area placements (OAPs), 95 more than the previous month. Compared to a year ago, there are 20 fewer OAPs. Compared to pre-pandemic levels, this is up by 8.2% (60 more than February 2020).
Our view
The data published this month shows a complex picture with different demand and activity trends in different areas.

NHS England's elective recovery plan set the ambition for the NHS to eliminate all waits over 78 weeks by April 2023. Trusts have worked tirelessly towards this goal and managed to reduce waits of 78 weeks or over by 91% since the peak in September 2021. Nearly 11,000 patients continue to wait longer than 78 weeks, with around a fifth being offered an alternative provider but choosing to wait. Although the target was not met, the reduction in the longest waits is remarkable against the backdrop of the most severe winter pressures to date, workforce shortages and a series of strikes never seen before in NHS history.

In many areas, activity is higher than it was before the pandemic. Diagnostic activity reached a record high and activity on the two-week urgent referral for a suspected cancer pathway is well above previous levels. These activity gains, unfortunately, are not enough to keep up with demand, with the elective care and diagnostic waiting lists growing once again this month.

Demand for care outstripping supply is common across systems. For example, the supply of mental health inpatient beds is under pressure with a jump in OAPs being borne out in this month's data, showing that capacity constraints span physical and mental health.

Meanwhile, demand for urgent and emergency care appears to have stabilised, with an ease in the demand for ambulances and A&E attendances. However, patients are still not moving through the system easily with the numbers residing in hospital despite being fit for discharge remaining high, putting pressure on both health and social care services.

The NHS is doing more than ever in many areas as it strives to recover and simultaneously transform services. However, this clearly isn't enough to keep up with demand. The pressing need for a fully funded workforce plan that will address the scale of the demand challenge is overwhelmingly evident in today's figures.



Hyper local recruitment helps in-reach to Leeds communities

Laura Smith and Jenny Allen, directors of workforce at Leeds Community Healthcare NHS Trust (Leeds Community Healthcare), share how innovative approaches to recruitment are widening the recruitment pool in Leeds.

Hyper local recruitment and why it is innovative
Our trust has traditionally relied on the NHS jobs website to attract candidates to vacancies. With unemployment levels reaching record lows over the last two years, the volume of candidates applying for roles through NHS jobs has decreased significantly. The candidates that were applying were from similar socio-economic backgrounds and were generally already in employment, often already working within the Leeds health and social care system.

We couldn't wait for candidates to come to find us, so Hannah Cressey, our tenacious senior business manager for resourcing, took the vacancies into the community, close to where the vacancies were based, and transformed the recruitment process to meet the individual needs of those people applying. Sessions were held in high traffic areas and local hotspots across the city, as well as posting flyers through doors in areas of high deprivation. By doing this, we were able to attract a more diverse candidate pool and reduce socio-economic inequalities through employment.

We also encouraged referrals from local third sector organisations and supported those furthest from the labour market into work. For example, by partnering with a third sector organisation, who supports homeless people to find housing and employment, we have been able to support some of the most marginalised people into employment.

In the past 12 months, we have recruited over 100 local people for local jobs, filling vacancies by reaching deep into communities, tapping into a diverse talent pool and in turn helping to tackle local unemployment. We've done this by taking vacancies directly to communities and engaging with local people to overcome barriers.

Why this strategy is right for a community healthcare model
As an anchor organisation and one of the largest employers in Leeds, the trust has a responsibility to support the wider health and social care strategy across the city; with employment being one of the key determinants of health, this project was designed to focus on areas of socio-economic deprivation and high unemployment rates.

The trust's green agenda also influenced the planning of this project. With a commitment to become net zero by 2045, it focused on keeping work-related travel to a minimum, targeting people who lived close to community vacancies who could easily commute to work without a car.

This solution was low budget but high impact. It required the introduction of three temporary staff members and a £10,000 budget for the printing and posting of flyers and leaflets. Flyers were also posted on key community social media (for example, local Facebook groups) which are free to use.



Measurable achievements, expected benefits and impact on patient care
Being a community trust, Leeds Community Healthcare is perfectly placed to offer local roles that are close to the communities of Leeds. The benefits have been staggeringly effective with 33% of the people appointed previously unemployed and a further 6% being on zero-hour or agency contracts. 29% of newly appointed people are from Black, Asian and minority ethnic backgrounds, which supports our equality and diversity ambitions of having a workforce representative of our communities. 

25% of people appointed live in the most deprived areas within Leeds, which provides a wider socio-economic benefit to the city, as well as supporting environmental aims of local work for local people. Many new colleagues can walk or cycle to work, which has a positive impact on their health and the environmental health of the city.

There has been a less than 10% turnover in the first 12 months with our new cohort, lower than the trust-wide average and an improvement in time to hire, as we determine suitability for interview through a more efficient shortlisting process based on values, experience and potential, rather than the ability to complete an online application.



What have we learned
The learning has been significant and has attracted interest from other organisations across Leeds. We are sharing key learning points and impact with other health and care bodies and stakeholders across the Leeds system who could benefit from either replicating campaigns or collaborating with us on future ones.

The key takeaways are that when engaging with different communities, individuals will have differing needs; there is not a one size fits all approach to adapting the recruitment process. Some candidates need support with accessing technology, whereas other people need financial support to get to interview. Other barriers include a lack of understanding of NHS terminology, job titles and job descriptions that are overly complicated when compared to the skill level of the role being advertised.



Further plans, development and evaluation
Following evaluation of the 12-month programme, it's clear we have been able to fill vacancies that have been empty for many years, with people who have been looking for work for many years.

With this proven success, we want to expand this approach even further to increase the numbers of people appointed in this way. We now use this approach as business as usual, with key events and campaigns planned in the community on an ongoing basis.

We're committed to work with more charitable organisations too and on an ongoing basis to extend the reach to people in the local community while maintaining an excellent pipeline of candidates to support workforce requirements.



A&E





Cancer

RTT

Diagnostics

Ambulance
Read our
 

press statement

 

in response to the latest data from NHS England.